Rubell Family Collection / Contemporary Arts Foundation (95 NW 29th Street, Miami, Florida, US) Dec 4, 2013–Aug 1, 2014
This December, the international art crowd convened in Miami again for the 2013 edition of Art Basel Miami Beach, the goliath art fair along with a myriad of satellite fairs and events. For any fair-goers who might feel interested or even just curious about Chinese contemporary art, "28 Chinese" at the Rubell Family Collection is a must-see.
As the culmination of the collector couple Don and Mera Rubell's six research trips to China since 2001, "28 Chinese" features paintings, sculptures, photographs and video installations by 28 Chinese artists, and occupies the majority of galleries in the foundation's 40,000 square-foot building. A quick skim through the artist list begins to reveal the unusualness of this show. Among the 28 artists, the only generally familiar names to American audiences are Ai Weiwei, Zhu Jinshi, Zhang Huan, Huang Yongping and Zhang Enli, all of whose work have seen more widespread representation and circulation in the Western art system. Here, Ai Weiwei and Zhang Huan are represented by several classic pieces from their most important series, with two iconic works by Ai Weiwei—"Ton of Tea" (2005), a minimalist cubic sculpture of compressed tea leaves, and "Table with Two Legs" (2008), a wooden sculpture reconstructed from two Qing-dynasty tables—and Zhang Huan's "12 Square Meters" (1994), "1/2" (1998), "To Add One Meter to an Anonymous Mountain" (1995) and "To Raise The Water Level in a Fishpond" (1995), all relatively older but still some of the most important performances in Zhang's career.
While Ai and Zhang's pieces delineate some popular themes and ethos common in the early works of Chinese contemporary art—traditional aesthetics and the spirit of collectivization—powerful works by Huang Yongping and Zhang Enli are absent in this exhibition. Huang Yongping's disturbing installation "Well" (2007), with several ceramic pots of decaying snake, bat, goat head taxidermies posing as if they are looking out of the pots, is his only piece in the show. This work is meant as a metaphor for the power relations between East and West—the former constantly and involuntarily observed by the latter as "cultures of otherness", while people feel scared but too powerless to escape from this awkward situation. Even if we leave out its necrotizing smell, in reality, the work does not serve the artist's original intention well. As viewers step onto the wooden platforms in front of the pots and peer inside, the dead animals' unexpected stares alarm the viewers instead, removing the meaning from this work. As for Zhang Enli, his four works depicting a wooden crate, two toilets and the back of people's heads in this show are slightly disappointing, as they are neither the most sensational nor the most introspective pieces made by the artist.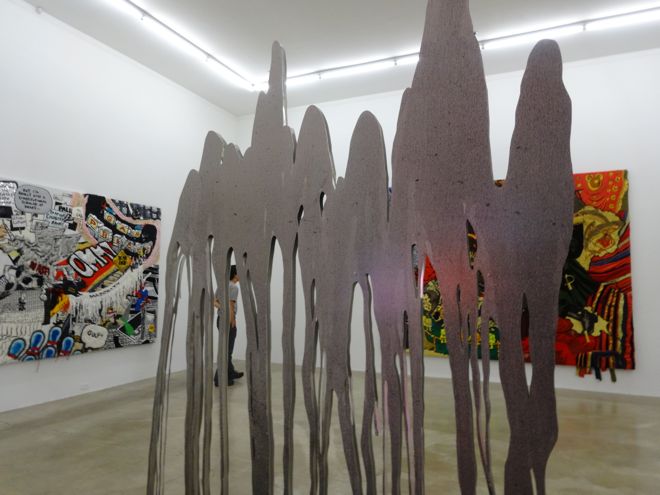 The expansive roster of participating artists actually spans several generations. As Don Rubell explained in an interview with Artspace, they can be categorized into three groups. While multiple works by Ai Weiwei, Zhang Huan and Zhu Jinshi represent the older generation, the exhibition's principal focus is on the newer generations, beginning with an in-between group—the likes of Liu Wei, Qiu Zhijie, Li Songsong and Wang Xingwei, representing the first separation from the older generation. The exhibition weighs heavily towards what the Rubells called "the completely young generation" who were born after the Cultural Revolution—among them, Wang Guangle, He Xiangyu, Chen Wei, Cheng Ran, Shang Yixin, Li Shurui and others—who work with a more diversified range of mediums and styles and are still relatively unknown in the West.
For the "in-between" generation, two large-scale paintings by Li Songsong provide distant and impersonal windows into two of the most familiar historical moments in many Chinese people's collective memory—the first Chinese astronaut in space and an illustration picture praising a non-existent successful healthcare system drawn from a book from the 1960s. These two paintings naturally stand out in the artist's signature style—greyish tones, rough brushstrokes and fragmented images. Among the young generation, Wang Guangle's two recent coffin-paint-inspired abstract paintings are among the most interesting pieces, the stories behind the works and the coffin paint tradition from southern China intriguing enough for all kinds of audiences—regardless of how knowledgeable they are about the latest developments in the Chinese art scene. Elsewhere, Chen Wei's staged photography, exemplified by "The Stars in The Night Sky Are Innumerable" (2010) and "Honey in The Broadcast" (2008), along with Liu Chuang's archive-like installations exposing all personal belongings bought from job seekers in a Shenzhen career fair, are all very self-explanatory.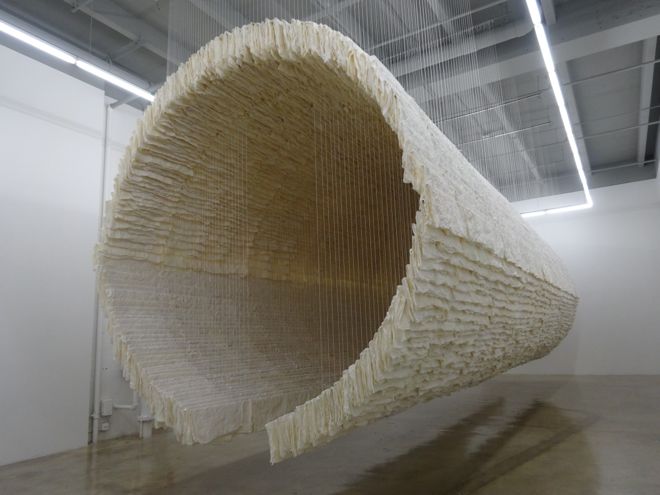 The largest piece in this exhibition—and also probably the iconic piece to many visitors—is Zhu Jinshi's "Boat" (2012), a 15-meter-tall tubular installation assembled from 10,000 sheets of xuan paper that are attached to hundreds of bamboo sticks and cotton threads. The sheer volume and monumentality of the installation is countered by the lightness of each paper, instilling a Zen-like atmosphere. As all the sheets were handled and installed separately by a number of assistants and volunteers at different moments, this spectacle-like installation could be interpreted as collective efforts building history. In another main gallery nearby, together with several of Zhu's sculptural paintings are Liu Wei's geometric abstract paintings. One of these works on view is the monumental triptych "Power and Kingdom" (2007-2010), included in a Rubell Collection group show during last year's Art Basel Miami. The wildness of Zhu's vibrantly colored and heavy strokes are juxtaposed with the rationality and order embodied in Liu Wei's works, pointing at how the exhibition further explores the rise and varieties of geometric abstraction in the latest development of Chinese contemporary art. Here, too, are Xie Molin's patterned paintings produced by digitally programmed carving machines, Li Shurui's psychedelic works inspired by light and color, and Shang Yixin's illusionary matrix paintings that manipulate viewers' visual logic.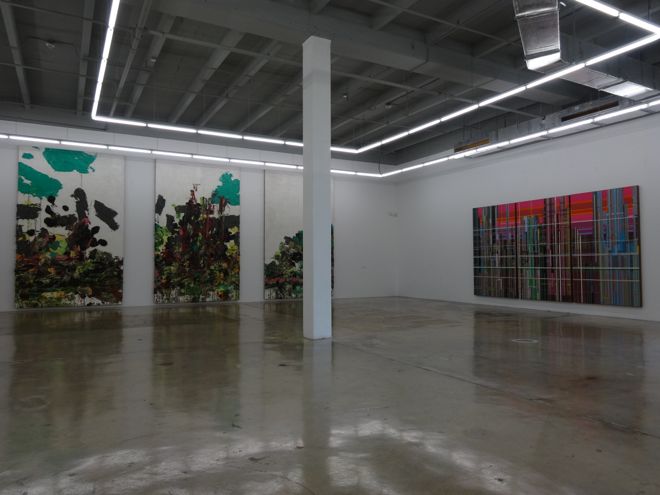 The inclusion of many non-cliché and truly interesting video pieces by this new generation of artists is also a highlight. On the second floor, the exhibition has dedicated an entire central gallery to display Li Ming's four-channel video "Songs of Artist" (2011). In the video, the artist seem to be using a series of imagery: ducks chased by the artist, four crows singing harmoniously, a group of ducks tied together with ropes, and a dying bat crawling on the street—which comment on his own experiences of being involved in a few artist groups, or else the competitive peer pressure he faced in China's booming art market. However, within the context of the global art ecosystem, the video's message of an artist's awkward, ever-shifting identity gains even more relevance and meaning. A few other smart video pieces are present, too, one of which is Hu Xiangqian's "Sun" (2008): here, the artist's steely determination to achieve the "most natural" skin color—to be as tanned as his African friends—may look like a hilarious "otherness's obsession with another otherness" to Western eyes, but it truly evokes a serious discussion about the possibility of an individual's identity in the globalized world.
"In this exhibition, we try our best to give each artist their own space to present their work," as the foundation director Juan Roselione-Valadez said when asked about the exhibition's curatorial approach, "Every artist's work is paired with a description or statement written by the artist himself/herself." Though artists do occasionally share the same gallery space due to the limitations of space, this approach clearly emphasizes the individuality of each artist—and that each non-Western artist is treated individually, just like artists from the West, rather than lumped together as members of a huge collective inscribed by their oftentimes oversimplified and flattened regional identity.
Reading the artist statements throughout the galleries is especially interesting. In the absence of the usual mediation from gallery and museum staffs, the artists approached their own statements very differently. For example, while Chen Wei and Hu Xiangqiang detail their ideas and creative process through a personal narrative, Huang Ran explains all his works with a short poetry-like sentence. Yan Xing uses somewhat obscure terms to present his concepts, while Li Shurui thought it more meaningful to tell the audience a background story in her life, even if it is only remotely related to the works on display. Ultimately, reading an artist's statement in a space filled with his/her works resembles a face-to-face conversation with the artist, almost like a studio visit. While as unedited primary materials, these artist statements do sometimes make the works even harder to understand, the approach nevertheless restores an intimate and "unprocessed" encounter with the artists and their works for many Western visitors.
Known for putting on trend-setting exhibitions, such as those focusing on Leipzig, Polish or young African-American artists in the past decade, the Rubells have earned renown from the art world globally for their shows' impact on how we look at and think about art today. One example was an earlier exhibition called "30 Americans," introducing a group of young African-American artists such as Rashid Johnson, Mark Bradford and Hank Willis Thomas, which had a significant impact on the art world. Of course, there were limitations to how "28 Chinese" was presented. While an expansive roster of Chinese artists are shown in this exhibition, this "buffet-style" presentation could at times be perplexing to the audience due to the lack of context and directions. For some pieces, since neither artist statements nor the audio guide offers enough insights, more in-depth knowledge about the work or the series it belongs to would necessitate further research elsewhere—limitations which are understandable considering the fact that the resources and mandates of a private collection and a museum are different. Thus, this is a decent exhibition that marks many young Chinese artists' entrée in America—one that despite whatever drawbacks, will serve as a foundation for the future.