"Urban Play", group exhibition.
Landgent Centre (No.20 East Middle 3rd Ring Road, Chaoyang District, Beijing). Nov 17 – Dec 25, 2011.
Curated by Tang Zehui.
It's not so often that a building like the romantically named Landgent Centre south of Beijing's CBD — or indeed any office building-slash-shopping mall-slash-plaza-slash-subway station of the ilk that are fast overrunning the city — becomes home to public art works. "Urban Play," a site-specific art exhibition curated by Tang Zehui, was not a roller coaster of a public art show, but for a month this winter it inhabited and enlivened pockets of the place and set an unpretentious precedent for this mode. One hopes it might give rise to more, teasing art works out of their commercial encampments in the art districts.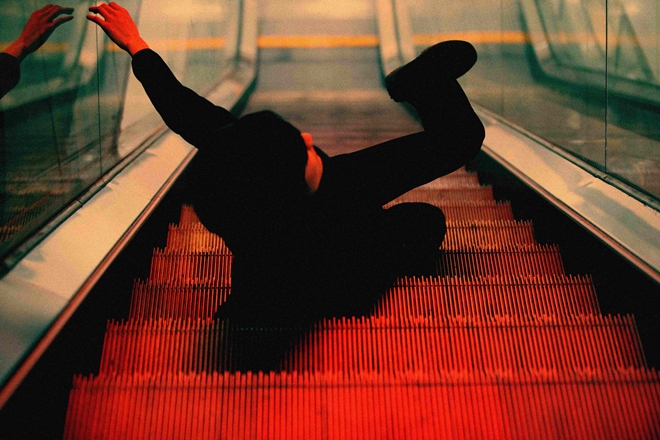 Of the works on display, which included installation, performance, dance and sound, a few in particular stood out. Constructed in the pedestrian plaza outside the center were a series of three slender pinkish, flat-topped pyramids with an entrance. Inside — as is the case, it seems, with most installations one must go into — was pitch black. But, as one's eyes adjusted and unusually enthusiastic attendants handed you pieces of white A4 paper, all became clear, with a compelling simplicity. For this was a walk-in camera obscura by Australian architecture designer and specialist Andrew Toland; onto the paper from above swam images gleaned from an involuntary outside world — at the time of the opening awash with a rainy night, with car lights slipping by and figures coursing gently about.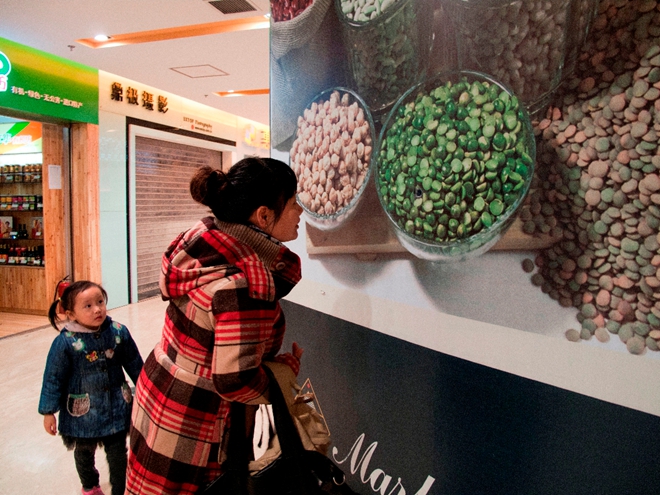 Inside the building in the basement were small nickels of wit inserted into the walls by Giancarlo Norese. One of these was life-sized video of a single blinking, looking eye (his own) placed so as to be camouflaged amongst the green lentils of a large advertising image. This occupant was instantly surreal, but above all witty: humor is a powerful, universal force for communication (often neglected in art), and highly appropriate to public spots where earnestness can dissolve in the currents of daily action. Though Norese's text introducing the work was somewhat involved, it did include mention of "minimal and feather-like actions" and "architectural errata" — snippets of a light, poetic diction that was enticing in the context.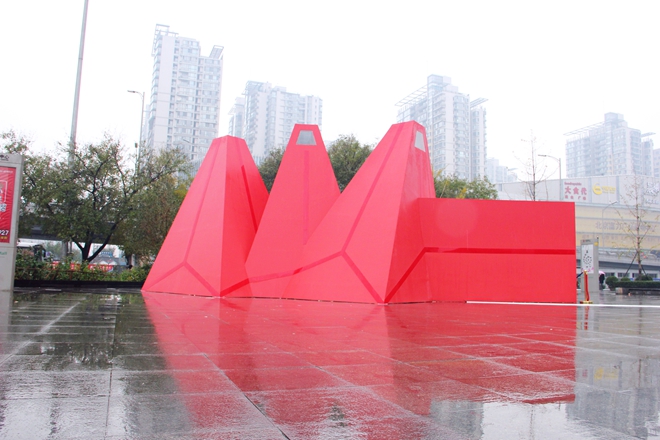 Unintended wit intruded happily into "Stage," a dance performance on and around the ground floor escalators to signal the opening of the show. Clad in work suits, dancers recognizable from Wang Jianwei's "Yellow Signal" exhibition performances in UCCA's Main Hall last year wheeled and clambered over and along the moving escalators (a remarkably similar choreography). A few hapless shoppers and their children were caught at intermittent moments having not noticed this unusual action spilling over the moving stairs, and found themselves ungainly and blushing — but best of all, unpredictable  —  participants in an instance of "Urban Play."