by Alex Burchmore

Dr Alex Burchmore is Sessional Lecturer at the Centre for Art History and Art Theory at the Australian National University, Canberra. In 2013-14 Alex lived in Beijing after receiving a Prime Minister's Australia Asia Endeavour Postgraduate Award.
Exhibitions of Chinese art outside China tend to confirm certain assumptions about the country's history, culture, politics, and people. At first, 'XU ZHEN®: Eternity Vs Evolution' at the National Gallery of Australia (NGA), Canberra, seems no exception to this rule, promising viewers a proven combination of two enduring preconceptions about China's past and present. On one hand, the 'Eternity' of the title evokes fantasies of a civilization distinguished not only by antiquity but by an apparently unbroken lineage of cultural florescence, inspiring flights of fantastical chinoiserie as well as stereotypes of Oriental despotism and stasis. 'Evolution', on the other hand, evokes the ceaseless metamorphoses that have come to define contemporary China for many of those who have made a career of watching the country's transformation from afar. In the eyes of these 'China Hawks', those who rule the People's Republic have betrayed an ancestral birthright in their relentless pursuit of profit, degrading the environment in the name of industrial advancement, denying human rights to those disenfranchised by their rule, and destroying architectural and material heritage in their efforts to remould the face of the country.
'Eternity Vs Evolution' could be compared in its juxtaposition of these assumptions with the comparable pairing of ossified antiquity in 'Terracotta Warriors: Guardians of Immortality' and contemporary metamorphosis in 'Cai Guo-Qiang: The Transient Landscape' at the National Gallery of Victoria (NGV), Melbourne, in 2019. In contrast to the artefacts of China's early imperial rulers showcased in 'Guardians of Immortality', however, remnants of classical civilization on display in 'Eternity Vs. Evolution' are visibly artificial, culturally ambiguous, and irredeemably compromised by the artist's creative manipulations or distortions of history. In Melbourne, the First Emperor's sentinels and the 'gunpowder-paintings' of one of China's most renowned contemporary artists were shown in proximity but remained self-contained. In Canberra, no such separation has been enforced. Present and past are inextricably combined in Xu's intentionally contradictory and confounding installations, paintings, textiles, and mixed-media assemblages. Additionally, while 'Guardians of Immortality' grew from an ongoing partnership with a provincial arm of the Chinese government, and 'Transient Landscape' comprised a series of commissions from Cai Guo-Qiang himself, 'Eternity Vs. Evolution' has been drawn almost entirely from the collection of the White Rabbit Gallery, Sydney. As such, a closer comparison could be drawn with 'A Fairy Tale in Red Times: Works from the White Rabbit Collection', also at the NGV in 2019.
In his analysis of the role that White Rabbit has played in mediating Chinese culture for Australian audiences since opening in 2009, David Bell attributes the gallery's success to its 'accommodation of the challenging, discomfiting, and dislocating.' White Rabbit's exhibitions have become known for their strategic use of 'shock, humour, gaudiness, or subtlety [to] transport viewers beyond their … comfort zones,' compelling a reassessment of assumptions derived from prejudice or preconception and thereby challenging the frequently clichéd representations of contemporary China found elsewhere. The gallery has been greatly enabled in this mission, Bell explains, by its independence from conventional sources of patronage in the Australian arts community as a not-for-profit charity financed entirely by founder Judith Neilson, whose appetite for Chinese art has been guided since her first purchase in 1999 by a taste for the provocative.(1) Neilson's fortune and the formidable size of her collection, now estimated to contain over 2000 works by almost 700 artists, have also allowed the gallery to avoid cooperation with state-owned arts institutions and therefore to openly critique government agendas.
Nevertheless, while challenging prejudice and preconception, the works represented in Neilson's collection can also serve to confirm other prevailing assumptions about the art of contemporary China. Their frequently controversial or subversive content, for example, supports a view of such art as an inevitably oppositional statement on adverse socio-cultural and political conditions. This is especially true when these works are shown, as at the NGV, alongside artefacts of a past China – many visitors to the gallery in 2019 may have found their assumptions confirmed as they moved from the promise of 'Eternity' in the display of Terracotta Warriors on the ground floor, to the visions of contemporary 'Evolution' furnished by White Rabbit on the top floor. 'A Fairy Tale in Red Times' also illustrates the extent to which the transposition of Neilson's ambitions to a state institution presents curators with something of a double bind. It is perhaps inevitable that some of the transgressive potential of her collection is lost, while works deemed too controversial or inflammatory are rarely shown beyond White Rabbit's walls. Yet institutional affiliation also has its advantages, foremost among which are the benefits of increased space, a larger install team, and a broader audience. The challenge for exhibitions like 'Eternity Vs Evolution' and 'A Fairy Tale in Red Times' therefore lies in the need to strike a balance between these competing objectives: to cultivate blockbuster appeal while overturning convention and stereotype.
Entering 'Eternity Vs Evolution' from the NGA's Asian Art galleries, visitors are introduced to (or initiated into) the exhibition with 'Rainbow' (1998), one of two videos that stand as representative expressions of the first of three phases in Xu Zhen's career. Philip Tinari, art historian and director of Beijing's UCCA, has identified Xu's work of the 1990s as a product of 'the tail end of the underground era' in Chinese art, when 'a sense that art could challenge … mainstream values' remained possible.(2) The four-minute video shows the exposed back of an anonymous performer against a stark white background that accentuates the gradual reddening of skin when struck repeatedly by an unknown assailant, the impact of an open hand heard but not seen. No context or reason is given for these blows, yet the immobility of the performer suggests complicity and implies that what seems to denote punishment, torture, or abuse may signify the fulfilment of a masochistic pleasure or a playful test of endurance.
The choice of this as the opening work for the exhibition is equally ambiguous. On one hand, it could be a rite of passage, a transformative shedding of the self through ritualised exposure to pain that simultaneously initiates the performer into a heightened awareness. On the other hand, it could merely be a display of bravado, a time-honoured hazing that must be endured to join a secretive and hedonistic fraternity. This blending of slapstick and sincerity reappears in 'Shouting' (1998) in the first gallery, the second video representing this phase in Xu's career. In this work, rather than a voyeuristic observer, we take the cameraman's perspective, sharing his mirth as the crowds occupying the lens turn around in surprise at the sound of his repeated exclamations, quickening their steps as they return to their aims. The NGA's caption explains Xu's screams as 'a way of asserting his individuality in a society that prioritises community and conformity,' enlisting the work as a combatant in the struggle of democratic values against authoritarianism that many critics outside China identify as the primary content of the country's art.(3) Like 'Rainbow', however, 'Shouting' might also represent little more than an expression of youthful exuberance, a prank or dare between friends.
In the context of the exhibition, these works introduce a theme of noise, alternately contained and released, that also appears in 'Calm', 'You're Going to Heaven Tomorrow',and'Dah… Dah… Dah… Dah…' (all 2009), installed opposite 'Shouting'. Rather than human cries of pain (or pleasure) and excitement (or anxiety), these works embody the aftermath of what we are led to believe would have been deafening blasts of rhetoric and explosive detonation, made eerily silent by entombment within mute metal and rock. The caption for 'Dah… Dah… Dah… Dah…' and 'You're Going to Heaven Tomorrow' identifies these jagged sheets of corroded steel as material records of gunfire and 'the soundwaves of a speech made by a politician or terrorist … a visible echo of the violent reality that those words can create.' Yet the onomatopoeic title of the former is a deliberate misnomer, likely intended to heighten this sense of violence – both pieces are 'voice-graphs' taken from political figures associated with conflict in the Middle East.(4) 'Calm', a mass of twisted metal and stone on the gallery floor, also invites association with conflict, recalling the ruins that war inevitably leaves in its wake. In contrast to the lifelessness of the latter, however, the almost imperceptible, undulating motion of a concealed waterbed imparts Xu's wreckage with a tenuous vitality marked by the rasp of stone against stone.
The solemn dignity of these conflict-laden works may seem antithetical to the sardonic abandon of 'Shouting', despite a shared emphasis on the containment of sound. Yet their apparent sincerity and ideological rigour, like that of the earlier video, is not as straightforward as it seems. As some of the earliest products of MadeIn Company, an 'art corporation' that Xu founded in 2009, these works also stand as representatives of a second distinct phase in his career. The trading name of this corporate entity is a nod to the ubiquitous label 'Made in China' stamped on mass-produced commodities across the world – an ironic statement, perhaps, on the quantity of contemporary art from China saturating the market when Xu decided to incorporate. The Chinese transliteration for this term, on the other hand – meiding (没顶), meaning 'without a head' or 'without limit' – implies both '[a] submersion of the ego and individuality … a sacrifice of the self in favour of the final product,' and the infinite extension of this production ad nauseam.(5) The transformation of his independent artistic practice into a corporate endeavour therefore allowed Xu to disguise his personal investment in the process of creation while at the same time multiplying the range of identities that the products of this process could represent.
This capacity for masquerade and multiple identity found clear expression in MadeIn's inaugural exhibition, 'Seeing One's Own Eyes: Contemporary Art from the Middle East' (2009), for which 'Calm', 'Dah… Dah… Dah… Dah…', and 'You're Going to Heaven Tomorrow'were created. The central conceit of this exhibition, as the title indicates, was the misleading assertion that works included had been created by young Middle Eastern artists with the intention of 'dissolving any monolithic views' about the art of this region and assembling 'a representative – if never comprehensive – sample of what Middle Eastern art wants to be about today.'(6) Those who visited the show found a range of stereotypical motifs on display, from chadors and mosques to oil derricks and razor wire, 'generically evocative forms spiced with enough ethnic detail to make their consumption feel like a border crossing, albeit a very smooth one.'(7) The aim, as the accompanying text makes clear, was to 'provoke the viewer to think about issues of cultural perception' and to expose 'the tendency of the West to create a neat package for art from other cultures.'(8) Hence the apparently missing preposition: we are not expected to see with our own eyes, drawing back the veil to bear witness to the unadorned truth, but to recognise that our vision is always already compromised by prejudice and preconception – we see what we want to see. Impartiality is an impossibility.
For those unfamiliar with Xu's artistic career, this subtext in 'Calm', 'Dah… Dah… Dah… Dah…', and 'You're Going to Heaven Tomorrow' is not immediately apparent in 'Eternity Vs Evolution'. A clue to their contrived exoticism is provided, however, by the inclusion of 'In Progress #180×131' (2012), a Persian rug recreated in plywood that both confirms the Middle Eastern theme while exposing its fabrication. The implied substitution of soft woollen fibres for a more inflexible medium also draws attention to another unifying theme in the exhibition: an attention to material contrasts. This is evident as well in the combination of masonry and silicon rubber in 'Calm', but especially in the pairing of the steel 'voice-graphs' with 'Under Heaven 20121018' (2012) and 'Under Heaven – Black Light 0302VS0137' (2013). Xu (or rather his staff at MadeIn) created these and other works in the 'Under Heaven'series by using a chef's piping bag to apply oil paint in icing-like swirls and daubs so thick that they can take months to dry and must be rotated when hung to prevent slumping. The visceral effect of this application has been diminished at the NGA by their display behind glass in a poorly lit corner of the gallery, preventing a full appreciation of their three-dimensionality. Nevertheless, the contrast of voluptuous excess and unyielding rigidity created by their juxtaposition with the other works in the room remains in evidence.
The material contrasts continue in the third gallery, in which sculptural and textile works of monumental proportions imbue the recurring tension between hard and soft with an air of faded luxury. The excess of the 'Under Heaven' canvases finds an echo here in the visually and materially ostentatious tapestries 'Spread B-041' (2010) and 'Immortals' Trails in Secret Land' (2012). The former is a variation on a series first shown in 'Seeing One's Own Eyes' in which European and North American caricatures of Middle Eastern politics are combined in feverish collages of fear, hatred, and prejudice. The eclectic cast of characters populating this tapestry, on the other hand, are drawn from popular cartoons and animated series, their garish and crudely embroidered forms overlaid to the point of illegibility. 'Immortals' Trails in Secret Land' is equally unintelligible, juxtaposing a haphazard assortment of figures, motifs, and symbolic objects drawn from various cultures with marine animals, birds, and a writhing serpent. The spectacle and inscrutability of both works are heightened by their installation above eye-level and their overwhelming scale, enticing the viewer to search for some key to unlock the mystery of their composition, only to discover that this mystery lies entirely in their resistance to any attempt at understanding. There are no complex allegories here waiting to be uncovered by a worthy initiate, only an absurd and vacuous palimpsest calculated to mislead and deceive.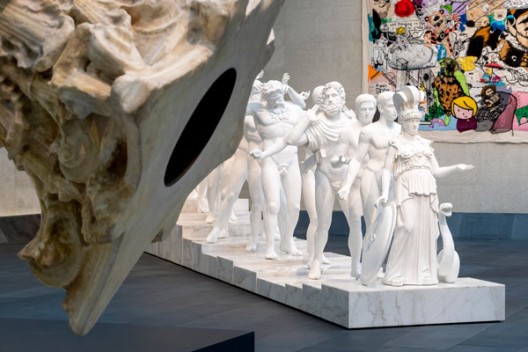 The same fusion of vacuity and spectacle animates the final three works in 'Eternity Vs Evolution', imposing sculptural assemblages that dominate both the exhibition design and branding. These works exemplify a third phase in Xu's career, created following the inauguration in 2013 of his XUZHEN™ brand among MadeIn's growing range of art-products. For Monika Szewczyk, this most recent self-commodification signals a final metamorphosis of the individual into the corporation, '[devoid of] biography, personhood, or personality [yet acting] as a kind of super-subjectivity.'(9) David Elliott has identified a resemblance between this super-subjectivity and the incarnations of Daoist and Buddhist deities, the diversity of which both embodies and obscures the multiplicity of the divine.(10) Once again, Xu is demonstrating his capacity for infinite transformation – with Walt Whitman, he celebrates the ambiguities of his artistic practice: 'Do I contradict myself? Very well, then I contradict myself, (I am large, I contain multitudes).'(11) Characteristically, however, the artist himself has dismissed his self-branding as little more than another stage in MadeIn's development as a business, driven by market demand: 'Over the years we have found that people want a person to focus on rather than a group.'(12)
The three monumental sculptural works included in 'Eternity Vs Evolution', marketed under the XUZHEN™ brand, exemplify this apparently contradictory combination of the divine and prosaic. 'European Thousand-Armed Classical Sculpture' (2014), when viewed head-on, conjures an illusion of unity – or perhaps of super-subjectivity – in which a procession of sculptural icons embodying European and North American deities or allegorical figures are incorporated into a composite facsimile of Guanyin, the thousand-armed bodhisattva of compassion. The unity of this figure immediately dissolves, however, as soon as the viewer moves around the sculpture and discovers the fractured artificiality of its construction, a material echo of those equally fragile and contrived dreams of geopolitical harmony or universal syncretism of belief to which so many idealists have dedicated their lives. 'Eternity – Longxing Temple Buddha Statue Part Three, Tang Dynasty Buddha Statue, Longxing Temple Buddha Statue part Five, Northern Qi Amitabha Statue, Vairochana, the Cosmic Buddha, Hebei Northern Qi Dynasty Standing Buddha Torso, Parthenon East Pediment' (2013-14) embodies another fusion of 'East' and 'West' in the decapitation and reassembly of sculptural icons standing in for classical Greece and China, inexplicably fused at the neck.
These works appear, at first, to confirm the conventional separation of these regions as distinct spheres of cultural development, home to diametrically opposed forms of religious and political civic life. Xu's use of the Parthenon pediment as a sole support for the inverted Buddhist figures in 'Eternity' can even be read as a tongue-in-cheek allusion to the enduring association of the West with a grounded materialism and the East with groundless spiritual fantasies. Yet in the context of Xu's broader artistic practice, and especially in conjunction with the other works in 'Eternity Vs Evolution', their fusion of sculptural vocabularies speaks instead to his desire to transform material artefacts of the past into 'information objects' or carriers of coded 'cultural genes'. When shown in unison, Xu explains, 'their relationship seems very natural, as if they were meant to be together … re-determined and re-combined.'(13) Speaking with Philip Tinari in 2015, he associated this recombination with a breakdown of singular cultural identification in the post-internet era, to the extent that 'it becomes … difficult to distinguish who made which work, or … if a work was made by a Chinese or a foreign artist.'(14) Ornamented with these ambivalent icons of transcultural (con)fusion, the Brutalist architectural void of the NGA's galleries takes on the universalizing proportions of a conqueror's vault, where trophies of the vanquished jostle for attention, stripped of all previous meaning and specificity.
Keeping watch over this motley hoard, the voluptuous coils of '"Hello"' (2019) take pride of place in 'Eternity Vs Evolution', towering over the viewer and following their every move with a baleful gaze that threatens consumption by the emptiness of the void (and note the inclusion of quotation marks in the title). The caption for this work draws attention to the historic prestige of the Corinthian column that Xu has chosen for the body of his serpent, 'first created in ancient Greece [as] a symbol of power, prestige and western civilization.' Yet the flaccid immobility of this automated guardian, save for the hesitant and creaking sway of its pediment-head when activated by the approach of the viewer, inspires more pity than dread. Carved in soft and yielding Styrofoam, this is a column devoid of all function, a structural support incapable of supporting its own weight, spectacular in scale but hollow within. As such, '"Hello"' offers a clue to the underlying message of the exhibition: that which seems invulnerable and eternal is often little more than an artfully contrived illusion, while the evidence of our own eyes is rarely as straightforward as it seems and inevitably colored by the assumptions that structure our view of the world. The eager insistence with which Xu's column forces viewers to look upon its hollow face seems to mark an impatient desire for us to join in the joke – to realize that the spectacle of this exhibition and the archetypal narratives of Chinese eternity and evolution on which this spectacle rests are contrived, reductive, and devoid of substance. The responsibility for this realization remains, however, as always in Xu's work, on our personal commitment to the questioning of our most cherished values and our readiness to admit that we are all complicit in the upholding of certain stereotypes.
Alex Burchmore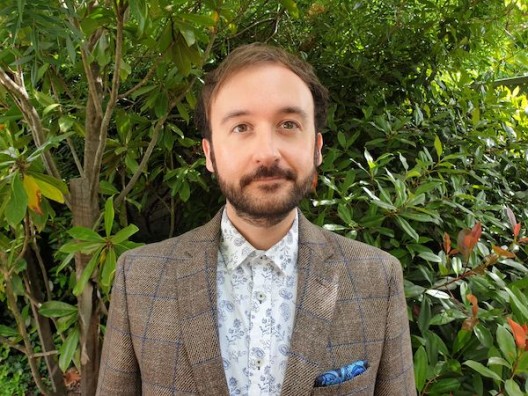 Notes
David Bell, 'White Rabbit, Contemporary Chinese Artists and Soft Power in Sydney's Chippendale,' in China in Australasia: Cultural Diplomacy and Chinese Arts Since the Cold War, edited by James Beattie, Richard Bullen, and Maria Galikowski (New York: Routledge, 2019), 136-40.
Philip Tinari, 'Moving in a Bigger Direction,' Parkett, no. 96 (2015): 149.
In this respect, it seems telling, that both works were chosen to feature in the Venice Biennale – 'Rainbow' in the 49th Biennale in 2001 and 'Shouting' in the 51st Biennale in 2005 – where they would undoubtedly have served to reinforce such assumptions for many viewers.
Chris Moore, 'Chris Moore on MADEIN at ShanghART, Shanghai,' in MadeIn, Seeing One's Own Eyes: Contemporary Art from the Middle East (Shanghai: ShanghART Gallery, 2009), unpaginated.
Travis Jeppesen, 'Art, Inc. Shanghai,' Art in America (April 2013): 91.
MadeIn, Seeing One's Own Eyes, unpaginated.
Monika Szewczyk, 'MadeIn Heaven,' Parkett, no. 96 (2015): 164-5.
MadeIn, Seeing One's Own Eyes, unpaginated.
Szewczyk, 'MadeIn Heaven,' 166.
David Elliott, 'In the Face of History: Chaos and Rectitude in the Work of Xu Zhen,' in Xu Zhen, edited by Chris Moore (Berlin: Distanz, 2014), 35.
This line appears in Whitman's magnum opus,'Song of Myself', first published in Leaves of Grass (1855).
Xu Zhen, cited in Michael Young, 'Where I Work: Xu Zhen,' Art Asia Pacific, no. 88 (May/June 2014): 185.
Xu Zhen, in Rajesh Punj, 'Information Age: A Conversation with Xu Zhen,' Sculpture 37, no. 3 (April 2018): 27-31.
Xu Zhen, in Tinari, 'Moving in a Bigger Direction,' 154-5.