La Biennale di Venezia. Jun 1 – Nov 24, 2013.
Artists, critics, and enthusiasts from the mainland, the territories, and the diaspora alike — doubtless alongside countless numbers of Sinophiles — will find Venice a welcoming second home this summer and autumn. The fifty-fifth installment of the Venice Biennale, arguably the most important biannual art show in the world, features the work of several hundred artists of Chinese descent in dozens of exhibitions — some better than others. As the importance of the affair on the global art stage tends to amplify curatorial ambitions – for some, a perceived necessity to stand out amongst the noise of all the competing exhibitions inevitably makes itself felt — it is perhaps unfair to visit Venice with the intention of scoping out representative trends in any nation's contemporary art scene. Indeed, it is a rather random, motley assemblage of Chinese artists, featured everywhere from the main exhibition halls to the national pavilion of Kenya (!) Rather than tracing the aesthetic (and, of course, political) tributaries that informed these decisions, the joy and intrigue of experiencing China in Venice this year lies in the absorption of the numerous unexpected surprises one encounters along the way.
This year's main exhibition, "The Encyclopedic Palace," retains a strong focus on outsider artists. One of the appeals of the exhibition is that curator Massimiliano Gioni interprets the term "outsider" broadly; a handful of Chinese artists feature in the group show, which includes nearly two hundred artists in total. Hong Kong-based Lin Xue, whose goal in life is to "draw a landscape that one cannot finish looking at," is famously reclusive, refusing to appear at most of his own exhibition openings, and is completely self-taught, rendering minutely detailed fathomings of the natural world on paper with ink and a bamboo stick. Taking inspiration from Song Dynasty landscape artists, Lin's work in the Arsenale consists of 13 drawings, most of which resemble peach pits. Once you get up close, however, a seemingly infinite deluge of microscopic natural and supernatural worlds unfurl.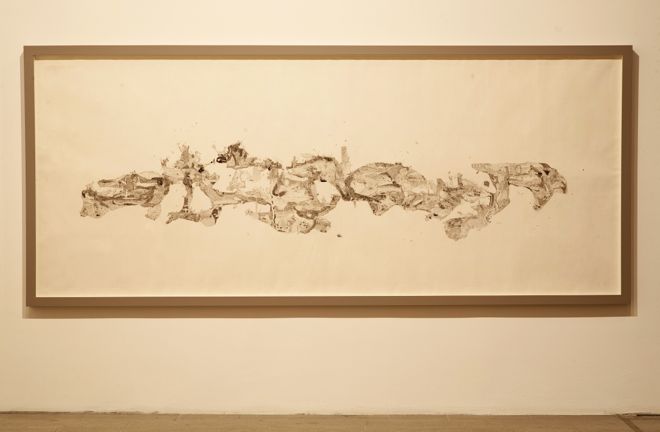 Another highlight is the late Guo Fengyi, who refused to view her work as art in the conventional sense. Guo used drawing as an extension of her Qigong practice, producing anthropomorphic forms with long, flowing lines on elongated scrolls of rice paper. Eventually, Guo came to believe that her drawings were a means of transmitting messages from the spirit world through her body. The resulting works, installed in the room next door to Golden Lion Lifetime Achievement Award-winner Maria Lassnig's "body-awareness paintings," propose a compelling symbiosis between the two artists' deeply metaphysical perspectives.
After exploring Gioni's exhibition for a while, some may find themselves hungry for more "traditional" examples of "contemporary art" (!) As I made my way through the "Palace," I couldn't help but think back to "Dreams and Conflicts," Francesco Bonami's much-hyped Biennale of ten years ago, when the Arsenale was so crammed full of video and multimedia installations that I thought for a moment that I had mistakenly entered a video game arcade. This year, I would call the amount of video work balanced, if not modest, and rightfully so: with an exhibition of this size, there is only so much a curator can realistically expect us to take in. Like works in other media, the videos and film work included were evenly spaced throughout both the Arsenale and the Italian Pavilion, and mostly manageable. My traveling companion pointed out that Kan Xuan's "Millet Mounds," in particular, was "good biennale art," in that one could absorb much of the work by merely gliding past. The installation, which was also shown last year in Beijing at the Ullens Center for Contemporary Art, consisted of 171 stop-motion videos, displayed on a long row of monitors, with swiftly changing still images documenting every known imperial tomb in China. As many of the tombs are in disrepair, while others have been retained as heritage sites, the videos together take on the road trip format and serve as a fascinating visual journey through China in the 21st century.
Despite his exclusion from all the official Chinese exhibitions, Ai Weiwei surfaced thrice this year. "Straight," an installation at an off-site project space, revisits the Sichuan earthquake disaster of 2008 – hardly a new concern for the artist. Over at the German Pavilion, Ai does what he arguably does best: mine the historical to put forth a subtle message about Chinese history on a grand scale; "Bang" (2013) is a rhizomatic contraption composed of dozens of three-legged stools, once ubiquitous in the Middle Kingdom and now all but extinct due to the disappearance of wood in furniture-making.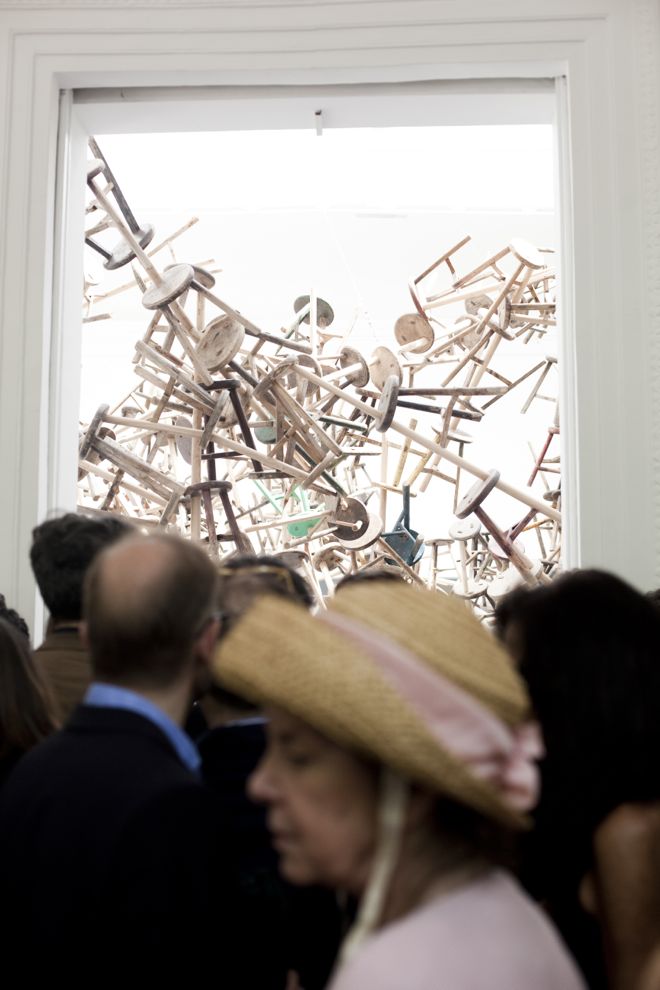 The most talked-about work, however, is "S.A.C.R.E.D.", which resembles at the outset six Richard Serra boxes – only with tiny doors. They turn out to be models for the compound where Ai was held during his eighty-one-day detention by the Chinese authorities in 2011. Windows inside reveal realistic miniatures of figures and furniture, allowing us insight into the hellish conditions of Ai's captivity, with a bare light bulb on 24 hours a day and two PRC officers standing inches away from the artist's face at all times – whether he be sleeping, using the toilet, showering, or sleeping. Regardless of your stance on the "Is he more an activist or artist?" question, the work is powerful and moving. Why it is being shown in the environs of the 17th-century Sant'Antonin church, however, is anyone's guess; perhaps it offered the most favorable rental terms for London's Lisson Gallery, who sponsored the exhibition? Such questions are likely to re-surface in the minds of anyone visiting this year's Biennale, which, with its near out-of-control quantity of "collateral events" bearing the Biennale stamp, is so vast that it would likely take the entire summer to see the whole thing. The Biennale's "democratic" pay-to-play structure ultimately undermines the seriousness of the event, if not its integrity.
The official representations of China are, by and large, less than memorable. At the Chinese Pavilion, "Transfiguration," a group show curated by Wang Chunchen, relies too much upon the flashiness and gimmickry of "new media," which makes it seem dated; as the work in the main exhibition suggests, the novelty of "new media art" has already worn off in 2013 – what we want now is substance. In fact, the best looking work in the show belongs to the "old media" artist Wang Qingsong, whose large C-prints – "Follow You, Follow Him," and "Temporary Ward" – give keen insight into certain societal sicknesses concealed under the guise of normality. Of course, one could also argue that, given the Chinese Pavilion's poor positioning, kilometers away from the tail-end of the Arsenale, by which point anyone who manages to make it there are guaranteed to have aching feet and mental exhaustion from hours of viewing art, one will naturally have less patience to sit through something like Zhang Xiaotao's "Mist" (2008), a thirty-four-minute computer animation that presents a bizarre dystopian surrealist sci-fi folk scene, complete with rainbows and Buddhas rising over a polluted industrial cityscape over which roam giant lizards and ants…A plotless sensory overload from which no discernible meaning can be excavated. If the curatorial intention was to regain our attention after the long march to Chinese art, then the plan backfired.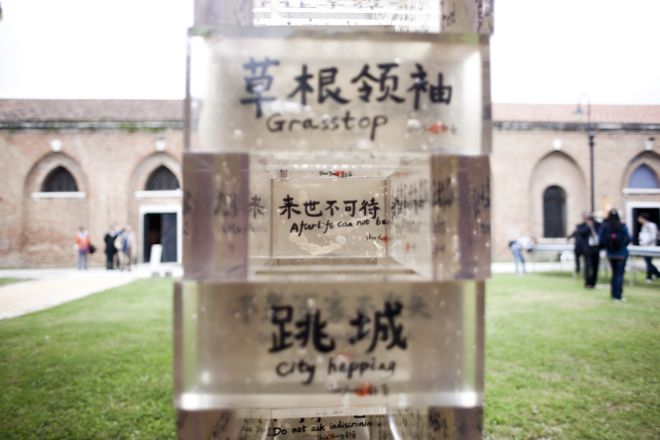 Some critics have already written off the Chinese Pavilion as a blatant exercise in nationalism. This is certainly an unfair reading of the Pavilion, as well as a possibly xenophobic stereotype. While China certainly isn't immune to exercises in propagandistic excess, Wang Chunchen is a curator and scholar of great integrity and talent, and is as knowledgeable about Chinese art as anyone. While "Transfiguration" is not likely to be remembered as his highest accomplishment, he at least does not have to fear that his work will be overshadowed by "Voice of the Unseen," a ridiculously excessive showcase of "Chinese independent art" from 1979 to the present. The exhibition stretches itself out in an abandoned factory with seemingly endless halls across the canal from the Chinese Pavilion, every square meter of which is stuffed with so much art, amounting to hundreds of works, that in the end, one walks away having seen nothing. For China's sake, I feel somewhat relieved that the exhibition's obscure location – it's actually quite difficult to get to, my companion and I had to hail one of the Biennale's official shuttle boats and were told that they could take us there, but not pick us up afterwards – ensures that very few visitors will be subjected to it. Indeed, it is exhibitions like this that lead outsiders to suppose that Chinese artists and curators have yet to reach a plateau that would allow them to take an ironic stance towards the propagandistic approach that sixty-plus years of state communistic rule have imbued.
Next door, "Passage to History" is a bit more cohesive – and coherent. Which is to say: manageable. Organized by the Museum of Contemporary Art in Chengdu, the exhibition commemorates the twentieth anniversary of Chinese artists' first participation in the Venice Biennale. Here, one can take in Yan Peiming's awe-inspiring Night paintings – one for each season – as well as Zhang Peili's monumental "480 Minutes," a video installation bluntly depicting the working life inside a massive all-female sewing factory. Altogether, "Passage" presents a comparatively sane format restricted to twenty representative artists.
Yan Xing, one of the first artists to articulate explicitly homo-erotic themes in Chinese art, is present this year in the finalist exhibition for the Future Generation Art Prize, sponsored by the Pinchuk Art Centre in the Ukraine and also featuring such up-and-comers as Eva Kotatkova and Ahmet Ohgut. Yan's installation, "Sweet Movie" (2013), is sectioned off into a tiny maid's room in the quaint Palazzo Contarini Polignac, which is crowded by lights, a clapper board, and camera equipment from an abandoned film set, while on two television monitors (color and black-and-white), close-ups of a nude male body gyrating on a bed are bluntly displayed.
One of the strongest positions upheld in Venice this year, however, can be credited to Lee Kit, who represents Hong Kong. Lee's installation / cabinet of instances, "You (you.)," proposes a house not quite lived in and yet not quite abandoned – a sort of in-between space. Entering the courtyard, positioned across the entrance to the Arsenale, you are confronted by two empty guard posts. Inside one, two blank post-it notes are stuck on two of the three windows; the other occupant is a blender. The contents of the second include a garden chair, Nivea face cream, an empty plastic cup, and a miniature set of drawers. These posts have clearly been abandoned.
Moving inside, two quotidian rooms are united by their sterile blue carpeting, suggesting the uninspired monotony of middle-class existence. On a white wooden canvas, the phrase "Throw away the keys" is smeared. Assorted video monitors, a laundry hamper. A mattress has been sawed in two and dumped unceremoniously in a corner. A video playing on a monitor shows us why the floor is so clean: we see it being vacuumed, presumably in the recent past. Still, there is an arresting of time here that can be tangibly felt, and that made me hesitate to write the last part of that sentence. Entering the second room, a row of speakers has been arranged on the floor. When you approach, a few bars from some forgotten soft rock ballad plays: black bile for the masses. Over the speakers, a painting inscribed with the sentence, "He stepped on his fingernail." The rooms elicit a certain desolation that could have only been sensed by a slow and sensitive thinker. The precision of each object's rendering and placement instills a yearning for a narrative coherence that will never be met. It's hilarious and sad all at once, and could have only been composed by an artist alert to the absurdity that secretly resides in beauty.