Tang Contemporary and Galleria Continua (798, Beijing), Jun 6–Sep 6, 2015
(curated by Cui Cancan)
Two is a peculiar number. One would be simple, one is solid. The moment you think of yourself, there is an inflection. The self is already two – you talking to yourself. And of course, before you, there has always been a world outside. Nobody is just one. Every relation needs an other. Two is the number of love, doubt and mirrors.
Now Ai Weiwei has his first solo exhibition in China—or so he claims—in 22 years, in not one but two galleries, which technically amounts to one divided by two. There are two more solo-shows on its heels at Chambers Fine Art and Magician Space.
Entering Tang Contemporary gallery is a most impressive experience. Inside the vast Bauhaus-inspired architecture, Ai has installed half of the structural remains of the Wang Family Ancestral Hall, originally from the Xiaoqi Village of Wuyuan County, Jiangxi Province and dating back to the Ming dynasty; this is juxtaposed with a colossal floor-to-ceiling wallpaper photograph of the building at its original site, dimly lit. The massive wooden beams of the 400 year-old structure pierce the walls of the gallery and continue, off kilter, into the space of the adjacent Galleria Continua at an odd angle to form the other half of the building.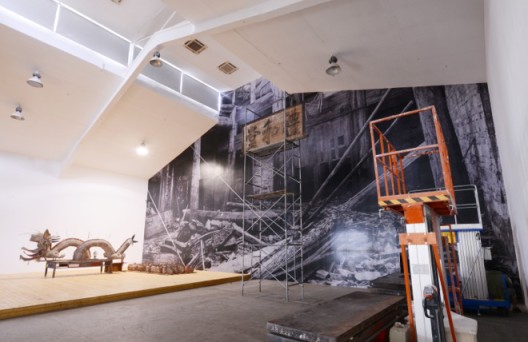 This tall, imposing central hall is what remains after the land reforms and the campaigns to "Destroy the Four Olds" (ideas, culture, customs and habits) during the Cultural Revolution. Originally built by the Wang clan to commemorate Wang Hua, the almost mythical founder of the family clan and a prince of Yue in the 6th Century, the ancestral hall was used not only for worship of the ancestors; as the curator Cui Cancan notes, it also served as a "self-governing court in that it held its own unique moral and ethical system that was external to the governing legal system. It supported clan stability and was untouchable by the bureaucratic system, and as such, when faced with political change or social upheaval, the system remained self-sustaining in its continuity and ability to regenerate."
So far, so good. And the information given out by the galleries seems to underwrite the pre-stabilized notion of Ai's dissidence. Things are more complicated, though. Firstly, to wholly experience the exhibition one has to go to the neighboring gallery, entering it from a parallel street. Retaining a sense of the antique building until one enters the gallery next door after a five-minute-walk requires an uncommon level of geometric mastery.
Upon entering Galleria Continua, one realizes a drastically different aura of the same structure—aesthetically cooled down by at least 20° C. Not chilly, exactly, but a sober temperature in contrast with the intoxicating heat on Tang's side. More matter-of-factly but also more arbitrarily, Ai presents the remains of the ancestral hall next to additional artifacts of more recent provenance. A very tall traditional wooden ladder, used by the construction team, is painted in such a way as to visually lose its structural identity and instead looks like a child's toy—or for those versed in Western biblical history, like Jacob's ladder. Other details also speak of child's play, like the wire-frame hand half way up on the right of the back wall, or the colorful sneakers thrown up into the structure and reminiscent of the those seen on the wires running through New York's Lower East Side, where Ai used to live two decades ago. Those sneakers in New York served (and continue to serve) as demarcations of the gangs of New York, claiming their territory—sort of a 21st Century claim to power, radically different to the claim to power of the Wang family, but still somehow related as a parallel organizational form.
And details keep emerging, of reconstructed ornamental wooden panels, taken from historical photos, reconstructed by local craftsmen and painted by Ai in bright colors which, placed inside the ribcage of the ancient building's structural beams and pillars, look like comical band aids on a child's injured limb. Quite prominently, a big, larger-than-human-scale mirror, supposedly in an antique frame from the late Qing dynasty (in the 19th Century), is presented at the front and to the left of Continua's main exhibition space. The actual mirror is new and has a smear of green, yellow and blue paint on it—off-colors for a rainbow, which is the first reference one thinks of. At second glance, the smear appears as an act of erasure, executed with the right hand towards the left and down in a swift semi-circular motion—against the direction of writing and therefore undoing what was there before. What was there before? In conversation, the artist poses this question: what did the mirror see, or rather reflect, in its day? What does it have to reflect (upon) today?
In a confidential moment, Ai talks about his plight with the exhibition and his interaction with the authorities, which keep telling him: "Ai, you are too influential!" This he sees as a "result of communication plus self-expression". So they keep a tight lid on him and he seems to comply: "I understand that the state is cautious. For them it is about safety. I understand this and I even respect this." To grasp the gravity of this and the pressures this man has "bestowed" upon himself—he does radiate an exceptional dignity—one has to understand that before he even finishes a work, whatever he does gets interpreted by virtually everybody…but namely the censor. The story has it that a censor knew of a title for the show that didn't even have a name yet; so it was reported and became an issue. Confronted with a title he didn't know of (so says Ai ), he quite liked it. It was something like "A beautiful new country", which to the Western mind looks like a perfectly innocent name for a show. We will never know if this is what Ai wrote on the mirror and then erased. The fact, however, is that the galleries decided to move the opening date from May 30 to June 6—after all, two days after an "anniversary" that doesn't officially exist is better than five days before it.
The artist, who now lives in a posh hotel outside the art district ("in order to clear some time for writing"), talks at length about the lack of support from his peers and the growing sentiment among Chinese artists against him: "They dislike me. But what—me personally, or my ideas?! They talk about me, not with me." What follows isn't really fit for print. Stuck between a rock and a hard place, he also talks about his struggle with the authorities and gives off conflicting information. "They will never change!"—and yet he admits that there are very smart people in the government that know exactly how to develop their policies to accommodate the people. And he seems to glean his energy from this intellectual challenge, in a fight he knows he cannot win. "At the end of the day, no matter how much I have accomplished, I feel empty inside."
Yet he manages to create a very elegant exhibition that speaks of all the political and historical complexities he is stuck in (he doesn't like the term "create": god creates, I am a mere re-interpreter). Having become interested in traditional Chinese architecture in the late '90s, he re-activates an older China for himself ("I am Chinese, my father was Chinese, my son is Chinese") while he refutes a post-modern notion of appropriating history ("We can never really learn from history"). Instead he sees himself as an archaeologist who presents bones, vertebrae, and sundry from extinction; he considers the installation of the Wang Ancestral Hall a "plane crash". These are all sorts of catastrophic metaphors for energies that are prevalent in the lives of many in contemporary China, an un-reconcilable mix of ancient cultural residue, uprooted by the Cultural Revolution, nearly starved to death during Maoism and now thrust into hyper-capitalist consumerism.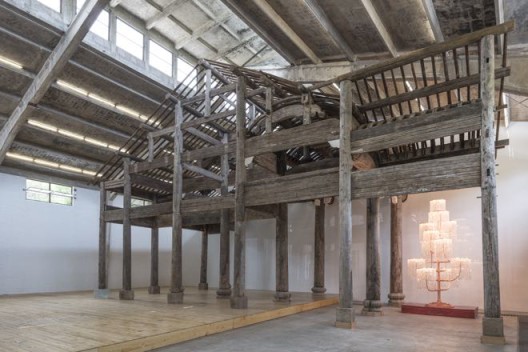 Ai Weiwei has repeatedly been seeking to anchor himself in the past by appropriating ancient artifacts—an artistic gesture taken from a Duchampian arsenal and yet also linked to a particular material aesthetic and appreciation of objects ennobled by time. Asked if he had ever thought of a connection between the concept of the "readymade" and the Daoist notion of "wu wei" (the action of non-action), Ai Weiwei, caught off-guard, pauses for a second, and then riffs on how he thinks of the readymade as an "Oriental" game, and the focus towards gaining consciousness as much more valiant than an old Western concept of creation. To him, commentary is more significant than artistry ("I don't trust my feelings"). And in another side blow to other artists, he states that not everybody has liberated himself on an intellectual level, casting himself as a scrupulously self-conscious man.
One cannot help but wonder if the mirror at Galleria Continua isn't some sort of attempt at a self-portrait by Ai, reflecting the present as well as the past. A trope that is also, well, "mirrored" by the setup of the exhibition, with the wall separating the two galleries now appearing to be "reflecting" the structure of the Wang Ancestral Hall into the adjacent exhibition space, a notion supported by the shiny ceramic tiles installed on the Continua side of the show. In addition, closed-circuit cameras live-broadcast one gallery space into the other via casually placed flat screens. It is almost as if two mirrors were put in front of one another, creating an infinite space in between them. If the exhibition at first seemed to be a box-in-a-box situation, conflating incongruent notions of architectural, cultural, political space and time, it now appears as a refractive space that contains the cultural experiences of centuries as channeled through the body of Ai Weiwei—both an intellectual witness to as well as an embodiment (and sometimes victim) of the forces he has called upon.
In this wonderfully complex installation, everything you see has another side to it, just as everything the artist says is juxtaposed by another statement—not as contradiction, but as an intellectual game reminiscent of Duchamp's famous door in his tiny Paris apartment that would either open towards the kitchen or the bathroom – another two-in-one trope. For someone like Ai , how could it be different? His fate—personally, artistically and politically—hinges between all these different worlds. To him this doesn't appear as a dichotomy; rather, he sees it as "self-expression", with the self already being a reflective manoeuver. Ego is one. The self is two and self-consciousness could perhaps be its enlightened stage. Two is truly a peculiar number.