This piece is included in Ran Dian's print magazine, issue 2 (Winter 2015-2016)
Zabludowicz Collection (176 Prince of Wales Road, London, NW5 3PT, UK), 8 Oct–20 Dec, 2015
This year, Jon Rafman was shortlisted for Canada's prestigious Sobey Art Award. The artist's first major solo exhibition in the UK is also the Zabludowicz Collection Annual Commission for 2015, and features a number of brand new works. This presentation follows major solo exhibitions at Contemporary Art Museum, St. Louis last year and the Musée D'Art Contemporain de Montreal, this year (2015). While Rafman is primarily a filmmaker reconfiguring online media and footage taken in virtual worlds in a unique blend of fantasy and self-reflexivity (often concerned with the simulation and enactment of desires, the nature of memory, and the alienation brought about by digital media and networks) he also produces sculptures and immersive environments using an uncanny mixture of analog and digital processes. (The Zabludowicz Collection is one of London's leading commissioning bodies, but it is also currently under a call for boycott by Boycott Divest Zabludowicz (BDZ)).
While essentially a mini-retrospective of short films made between 2008 and 2015, each work here is installed in a viewing environment designed specifically for this exhibition. In the rear gallery, sculptures from the series New Age Demanded and Manifold and a virtual reality film are positioned inside a maze that takes up the room's entire 180 square meters.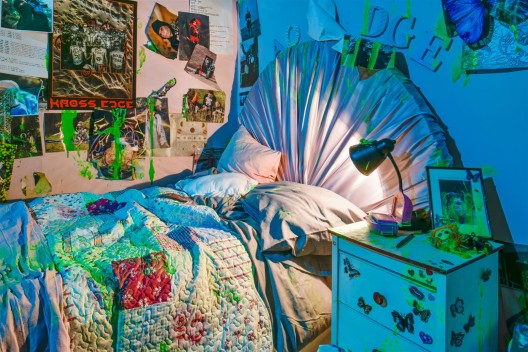 "Sticky Drama"(2015), installed in the Middle Gallery, is the artist's first fully live-action short film, developed in London over the past three months and featuring a cast of thirty-five children. Produced in collaboration with the musician Daniel Lopatin, the film documents a Live Action Role Play (LARP), augmenting its action with computer-generated special effects and a soundtrack employing a wide selection of samples; these range from the courtly tones of the harpsichord to death metal drumming. The project thus combines a participatory work of art—of which its players are both authors and witnesses—with Rafman's deft storytelling using moving images. The film begins amid the print-covered bedroom walls of a young girl, who converses with a blob-like figure bearing a Tamagotchi "face", asking it "How far back can you remember?" The blob enters a series of memory portals in which we see it being taken away by an armored knight, bathed and kissed, harbored within the weathered brutalist architecture of The Alexandra Road Estate, and finally ingested by its fugitive bearer in a bid for its safety.
The blob enters one last portal in which there is a sizeable insurgent army clad in scuba gear, capes, plastic tubing, cassette tape, electronic cables, foam, and cardboard, toasting with their leader, "The end of [their] glorious campaign." Melting the gatekeeper with acid, the army advances toward the house where preparations for defense are underway. Slime begins to ooze from the walls of the girl's room, coating printed images from each portal. The blob's Tamagotchi liquefies and explodes into abstract patterns before the LCD itself begins to ooze slime. Watching the walls with concern, the girl frantically types on her computer as the two armies clash outside. The smoke-filled slow-motion sequence that ensues, in which LARPers (players of Live Action Role Playing games) war with wooden hammers and modified Nerf guns while drones hover above and axes fly across the screen, is a reminder of the film's dual role as the music video for Lopatin's forthcoming album (under the moniker Oneogtrix Point Never) "Garden of Delete". Rafman's second with the artist, following on from "Still Life (Betamale)" released at the beginning of 2014, it mixes highly edited gravity-defying choreographies (more conventional to the genre) with extended narrative. In the film's final sequence, the blob breaks out of its IRL form into a 3D wireframe model before morphing into a fully fleshed creature, spinning and flipping as it is animated by the girl through motion capture technology. The leader of the insurgents attempts to harness the blob's power, whose life flashes once more in front of its eyes before it explodes, splattering the room and everything in it with slime.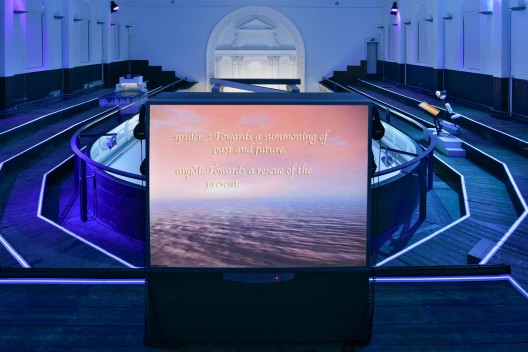 Originating in tabletop role-playing games, LARP is notable for its emphasis on participation over spectatorship. Appropriately, then, as part of the foundation's education program, individuals between six and sixteen not only acted in this film, but also developed its narrative and setting in a series of workshops with the artist. As a result, it celebrates the crafted enactment and simulation of its participants (one that in many ways prefigures that of the digital avatars) who have creative input into multiple aspects of the production. For Rafman, whose practice incorporates a kind of ethnographic observation of networked society, this foray into the realm of LARP is one that answers the problem of being both "field work" and production. In a fantasy world that bleeds into the real, the artist creates a mythology of obsolete technologies.
"Sticky Drama"is installed in a recreation of the room in which it begins and ends, containing the weapons and costumes used in it, its walls covered in slimed copies of the horror film journal Fangoria. Recalling the unmediated realism of seminal 1970s performance works that left artefacts behind in the exhibition space, the installation, however, lacks the ambitious repurposing and stylization that Rafman brings to digital content in his films. The artist's treatment of these props is almost museological in comparison with the way in which his films isolate materials from the niche interests they arise from, instilling new life into online media or footage taken in virtual worlds such as Max Payne 3 or Second Life.
Moving to the Main Hall, we find "Erysichthon (Temple Ruins)"(2015), which recently premiered at the New York Film Festival. The film is installed in a recreation of an altar that once occupied the space—formerly a Central Methodist Chapel—as temple ruins. A popular computer game motif, the set design also references the Greek myth of Erysichthon who chopped down the sacred grove of the goddess Demeter in order to build himself a banqueting hall, and was cursed with insatiable appetite. The film shows a series of holes, voids, creatures, and materials swallowing one another, pointing to the consumption inherent in the human will to become immortal through digital technology (as predicted by futurists such as computer scientist Ray Kurzweil). The way in which the experience of the present is plagued by the mediation of digital archives and interfaces such as VR and robotics is played out in a series of screen-within-screen clips made by manipulating archival footage in which we watch people staring at content on various devices. The film thus conceptualizes the rise of mediated viewing experiences as a Faustian dilemma of contemporary production. Its host of ingested objects and creatures model a subject who internalizes his or her media landscape, on which their experiences in the present are then entirely dependent.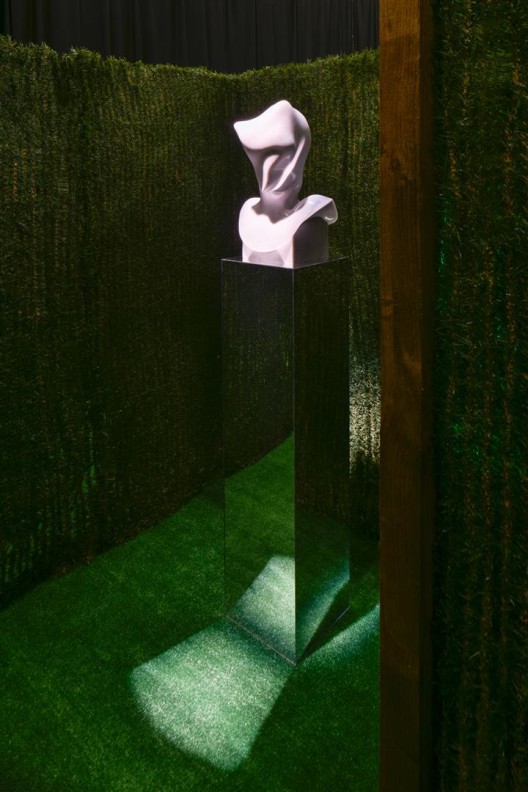 Rafman considers each installation of a video as a work in itself, yet (despite their popularity) many of the works' bespoke viewing environments simply ask us to engage in a second-rate simulation of the video's content. For example, one views the liquidic abstraction of "Oh The Humanity!"from a waterbed and the aerial views of "Tokyo Red Eye" lying face down in a massage chair which—like the viewing environment of "Sticky Drama"—needlessly reiterates a filmic element rather than using the translation from screen to three dimensional space to progress its narrative or concerns.
Or the film "Mainsqueeze (Hug Sofa)" (2015), installed in a three-seater version of the "Squeeze Chair"—designed for autistic individuals in a 1998 collaboration between the artist Wendy Jacob and the animal science professor Temple Grandin. While the 1998 prototype recreated the calming deep pressure applied to animals by squeeze chutes at Grandin's family ranch, Rafman's version does not inflate, and as a result has more in common with the anxiety-inducing modernism of Jacques Tati. Centering on a clip in which a self-destructive washing machine tears itself apart, the film is punctuated by footage of cosplay rope bondage, graphic hentai, and images of sleeping pranks and baroque gore. Also featured are several examples of "crush fetish", involving a bodybuilder with a watermelon and a woman with live shellfish, described by Rafman as "strange and sometimes disturbing expressions" arising from a perceived inability to effect change. By transposing questionable material into the museum in a poetic manner, the artist fetishizes fetish itself, establishing an ethical exchange within the morally relativistic institution of contemporary art.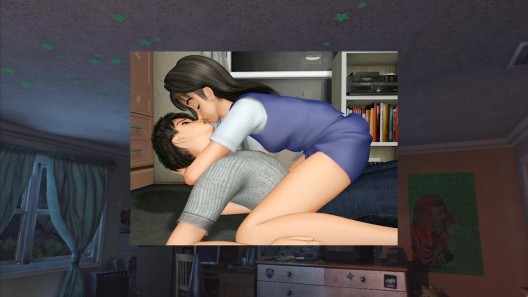 Presented in a custom-designed ball pool, "Still Life (Betamale) (Ball Pit)" (2015) sources its material from the image-based bulletin board GUROchan, incorporating explicit fetishistic cosplay and "furry" (anthropomorphic fur-clad roleplaying) material. Contrasting the purity of high definition digital animation with filth-ingrained troll caves, the film speaks to the barrage of idle stimulation that "beta males" such as NEET (youths not working or studying, and without much purpose in life) in the UK or hikkikomori (modern-day hermits who refuse to leave their homes) in Japan retreat into. Combining essay-film and music video genres, the artist's stylization of content isolates it from the social and psychological contexts in which it was found.
"Codes of Honor (Cockpit v.3)"(2015), inspired by the film essays of Chris Marker and shot in the online virtual world Second Life, is dedicated to the Chinatown Fair video game arcade in New York which closed in 2011, and in which the artist spent 2009 interviewing "the top East Coast players". The film's protagonist, narrated by Rafman himself in an unbroken monologue, reminisces on his past life as a pro-gamer. His reflection that there is always "something tragic about trying to beat a video game" speaks directly to the artist's strategic departure from the kinds of virtuosity his films portray. By incorporating amateur footage and enactment, obsolete technologies and a "light-touch" appropriation (in works such as "9-Eyes" where he presents images found in Google Street View), he obfuscates, rather than showcases, the often vast human and technical resources employed in the creation of his narratives.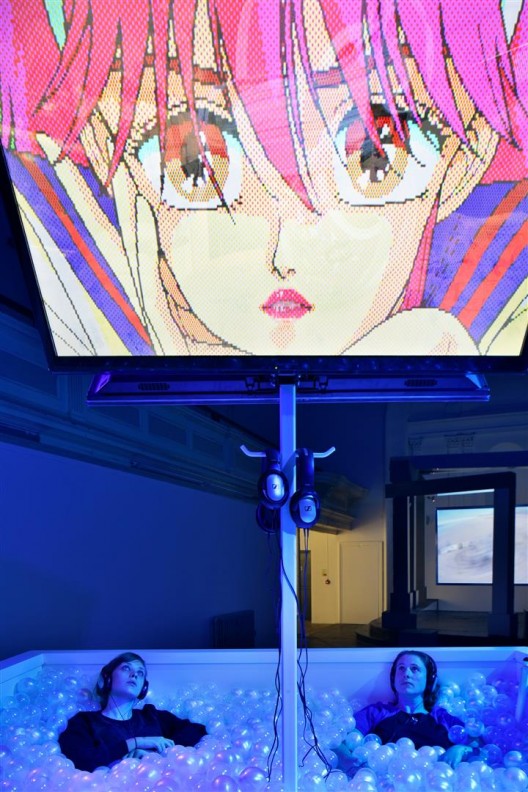 Upstairs, where UV lighting and floor decals transform the somber wooden mezzanine into an arena of sorts, we find Rafman's self-described "lost vaporwave classic" "Neon Parallel 1996″ (2015). Narrated in subtle and evocative tones by a Voice123.com freelancer, the film inhabits a "metropolis of some other order, whose true construction was not glass and steel, but fear," its futuristic night-time high-rise landscape includes found footage and downgraded imagery from the open world action-adventure Sleeping Dogs. Featuring retro onscreen chat dialogue, VHS artefact ridden footage of hard-drives being destroyed and individuals wearing VR headgear and Zac Blas' "Facial Weaponization Suite", the film hints at the similarity between amnesia and disappearance in a surveillance society. Sharing with other films in the exhibition a concern with what the artist terms "the horror of data loss", it is arguably his most stylistically complex, displaying his ability not only to emulate the technology of a particular era, but also to evoke its effects on human consciousness.
In the rear gallery, sculptural works from the New Age Demanded series are installed within a hedge maze composed of artificial topiary. The digitally manipulated busts, 3D-printed from photopolymer resin, are finished in black chrome, concrete, silicone, and blue powder pigment, taking them a step away from their digital origins—a modernism arrived at by surreptitious means. At the maze's center stands "Manifold (Digital Hellspawn)" (2015), a two and a half meter tall fiberglass figure, from the artist's new series extending the manipulations of New Age Demanded in creating full figures. Here, one can don an Oculus Rift headset to experience an immersive VR film. In an end-game sequence of sorts, a chorus serenades us as we pass through walls of the maze and into a moonlit forest containing virtual versions of the maze sculptures and a dense ambient soundscape. Apart from the maze's popularity as a video game environment ever since the advent of Pacman and Wolfenstein 3D, it also references getting lost on the internet, a recurring trope in Rafman's work and one described in "Still Life (Betamale)"in the line "You can't find your way out of the maze you are convinced has been solely created for you." Concerned with the transition between immersive real and virtual spaces, "Sculpture Garden (Hedge Maze)"expands on the uncanny environments of the artist's 2013 series Brand New Paint Job; whether this is a conceptual update or simply a technological one, however, is unclear.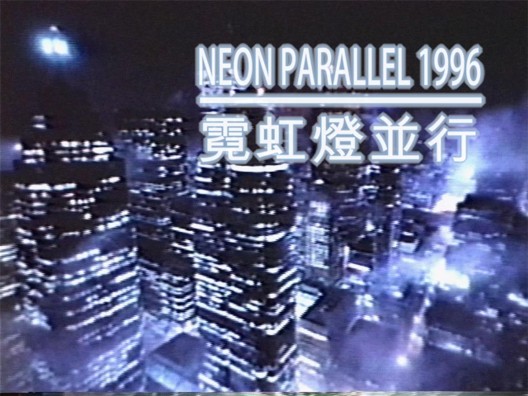 By repackaging niche subcultures, many of which are largely unfamiliar to art audiences, Rafman unavoidably becomes their validated mediator in a form of "fetish tourism"—albeit a poetic one. How can we discuss such an ethnographic exchange, particularly on the free-for-all terrain of the internet—as Tiziana Terranova asks in Free Labor: Producing Culture for the Digital Economy puts it, "after the demolition job carried out by thirty years of postmodernism"? Given Rafman's penchant for furry-dom, perhaps the following anecdote of another explorer, a cultural mediator renowned for his early and studious employment of colloquial speech, is of relevance.
When Mark Twain visited the Antipodes in 1895 he was given several Maori artefacts and a stuffed duck-billed platypus. The latter he kept as a treasured possession, writing in his next book, "Mr Kinsey gave me an ornithorhynchus, and I am taming it." Are Rafman's oversexed furries, slime-spattered stuffed animals, and similarly exotic still-lives simply wares (and documents) of an economy that is coming to an end? Or will the ambitions and ethics of his various sources continue to seep into the museum and vice versa, attesting to art's relevance out there, in the far-flung corners of the web?