Leaves of Stone/ Foglie di Pietra by Giuseppe Penone
Gagosian Hong Kong (7/F Pedder Building, 12 Pedder Street Central, Hong Kong), Jan 21–Mar 12, 2016
For his exhibition "Leaves of Stone", the Italian artist Giuseppe Penone presents a series of works that proposes replacing the common narrative of the "exploration of nature" with becoming part of nature, thereby redefining the boundaries between the natural and the human.
As a younger member of the Arte Povera movement (though he tries to cast off these labels), Penone comes from an approach of deploying his own body in conceptual and performative works in the '60s and '70s, and later adopted simple, natural materials—wood, stone, metal, resin, and acacia thorns—in ways both poetic and inspiring. Though calling the exhibition a "forest" is an exaggeration (as other reviewers have griped), Hong Kong galleries seldom achieve this degree of vitality. Certainly, the forest as a motif and an environment is essential to the artist—who is known for working on, in, and with the Italian forest. A central element of the exhibition is a group of trees cradling stones in their branches ("Foglie di pietra", 2013). Yet the tree branches are made of bronze.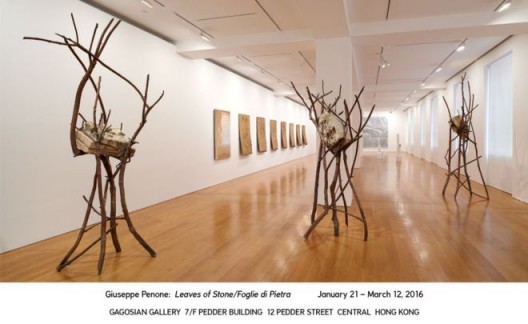 While the esteemed Chinese artist Qiu Zhijie has recently criticized art students for excessive use of this "confusion of materials"—labeling it a "product of typical naive compositions"—in this case, the approach cannot be dismissed out of hand as a smart material trick. The placement of found stones on the cast bronze tree branches first of all conveys an elegant intimacy through an uncanny relationship—the branches and the stones are both minerals, in fact, and are therefore more intimately related than in nature. This union, moreover, provisionally sabotages the independence of each: the found stones, as arbitrary as they are, cancel out the presence of the meticulously cast bronze branches (reducing them to a certain form of "plinth") and the effort required to make them. Looking deeper, one discovers that material fragility or strength is not the artist's primary concern. Instead, the doubling of materials—first to simulate another medium, then to stress one's own presence, all the while with a feeling of gravity oscillating back to the thing itself—creates fascinating whirlwinds of perception.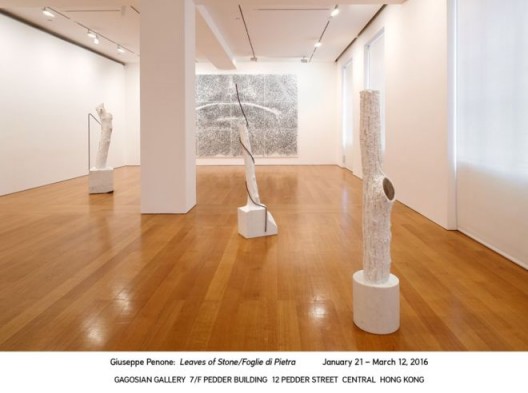 Also in the exhibition is an early work "Riflesso del bronzo" ("Reflection of Bronze", 2004), crystallized in the accumulating movement of which is a profound opening of the relationship between time and originality. Consisting of eight bronze plaques, each slightly different from the previous one (though each is in fact cast from its predecessor), the work presents derivation in a positive light as distortion builds and reflection fades—in the end, throwing into question the idea of the original itself as infallible. After all, imperfection in the original is the very seed which can generate a fruitful derivative, one that is both poetic and inspiring.