ShangART Beijing (261 Cao Chang Di, Old Airport Rd., Chaoyang District) December 6, 2015 – February 21, 2016
In "A Drop of Dust" at ShangART Beijing, Ouyang Chun has painted images on various pieces of junk including plastic bags, used towels, and damaged cardboard boxes. The images lack the sense of "maturity" appropriate to the artist's age and profession. The pieces are deformed and distorted, and betray a sense of naiveté, as if they were painted by a novice. The earliest instance of this childlike style can be found in the Primitivism movement of the late 19th century, which attempted to express the primeval aspects of human nature. The movement placed importance on one's subjective feelings when observing an object, and rejected professional training in order to preserve the naiveté and innocence of a piece. The simplicity of Ouyang's work is similar in style to primitive art, and is also a form of resistance against an industrial civilization and its regime. Naiveté is not the intentional result of this style; it is a natural, organic form. Or at least, it was for Henri Rousseau, who refused to be taught how to paint, and managed to preserve as many of his original impulses as possible.
Ouyang Chun is the featured artist at ShangART last year. In addition to holding his solo exhibition "My Story" in spring, 2015 at H-Space and their main space in Shanghai, ShangART will also be promoting the artist in all of the major art fairs to follow. Last year's "My Story" focused on the oil paintings that Ouyang has created since 2004, while "A Drop of Dust" presents 1,300 small paintings that the artist has been working on since 1993.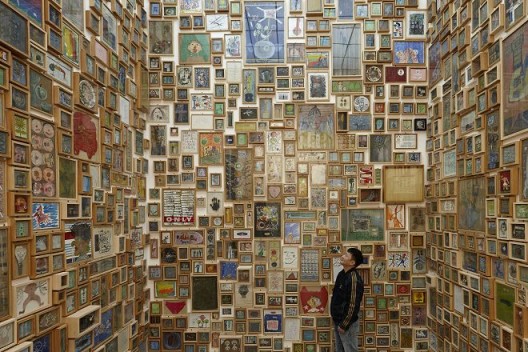 Though Ouyang Chun graduated from Xi'an Academy of Fine Arts, he refuses to use professional painting techniques in his work in an effort to preserve his subjective feelings about painting, and avoid making his work "too polished". Ouyang Chun's "childish" lines express the subjects of his paintings in a direct, unpretentious manner. The "innocent" appearance of his works forms an intense contrast to his complex subject matter, which often includes extremely violent and sexual content. However, today, this "amateur" style of painting no longer seems to arise simply from a subjective, instinctive emotion. Instead, it feels quite purposeful, as if it is purely a stylistic choice, or an attempt to avoid the constraints set by the rules of painting.