"Heidi Voet: 500 Years"
BANK (1/F, 59 Xianggang Lu, Huangpu, Shanghai), May 29–Jul 10, 2015
For her new exhibition "500 Years", Heidi Voet, a Belgian artist residing in Shanghai, featured a number of new works made with plastic bags. According to the artist, the exhibition has been a year in the making, with readings and research in history. In 2012, I once visited Voet and her husband Michael Lin in their shared studio. Voet was then growing potatoes; when they were ready, she peeled them and waited for them to oxidize and turn black before carving them to resemble tribal carvings from Africa. There was also a series of photographs of female bodies combined with fruits and vegetables, as well as a plastic carpet woven out of plastic digital watches (which has since been collected by the K11 collection). To this day, Voet has kept up with her interest and explorations in female identity, primitivism, contemporary media, and modernism.
In this exhibition, tens of thousands of plastic bags have been woven into seventeen flags hung in an orderly fashion along the wall; most of the bags used are black (one cannot help but think of garbage bags). These flags of states which once existed but have now disappeared are the results of the artist's research, looking tainted by the dirt and dust of history, which the black plastic only adds to. Yet these unkempt, fallen symbols of nations and power are, for the artist, a visual allegory, perhaps: their resistance to decay means the plastic bags will last far longer than these fallen nations.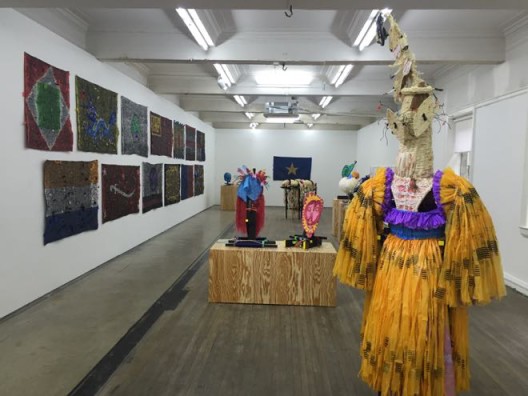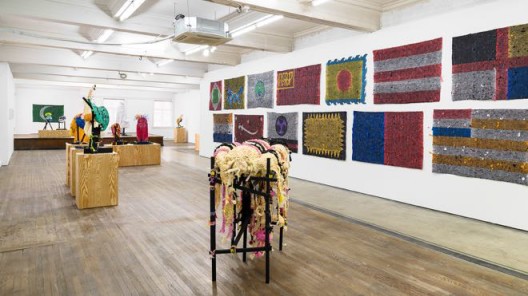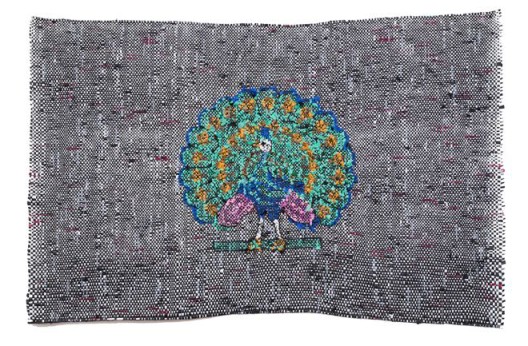 The exhibition also features fourteen humanoid sculptures of varying sizes, also made of woven plastic bags. Among them are two life-size sculptures, one standing and one reclining. Noteworthy are the bases below these primitive woven sculptures, composed as they are of short, overlapping black strips of wood that look structurally unstable. The tops of these wooden strips are painted red, yellow, and blue. One thinks of how in 1918–1923, the Dutch furniture designer and architect Gerrit Rietveld designed The Red and Blue Chair, the first attempt at a three-dimensional form within the De Stijl art movement; Mondrian set forth the delimitations of Neo-Plasticism as reduction of form and color in compositions of vertical and horizontal visual structure. While the structures supporting these sculptures appear to hark back to this, they also emphasize a specific identity and origin. As bases, they support paradoxical sculptures.
Such hybridization and inversion of identity is also reflected in a set of photographs in the exhibition. Each photograph depicts two different fruits, but the skin of each has been swapped for that of a different fruit. An apple wears the skin of a pear, and so on. Fleet-footed and humorous, the works still offer a distinct point, and together with the other works, make for a clear and sophisticated exhibition.