by Chris Moore

"Raimund Girke – In Between White"
Axel Vervoordt Gallery (15D Entertainment Building 30 Queen's Road, Central, Hong Kong), Sep. 10–Oct. 22, 2015
white is space, is white-space
white is ceaseless space, is endless, boundless space
white is non-dimensional space
white is weightless, a never ending hovering in wide space.
…
white demands meditation
—Raimund Girke (1)
Raimund Girke's medium was white: as erasure, as layer, as edge, as foreground, background, gesture, fog, lens and matter. Even with his delicate pencil drawings, surely informed by Seurat's non-linear drawing, whereby the white of the paper's tooth emerges through graphite haze, whiteness is not simply a counterpoint of contrast and scale, but the elemental background. The delicate webs of gestural marks are "grey" because the world in which they exist—the paper on which they are drawn—is white.
Raimund Girke (1930–2002) was not a central member of the ZERO Group. Too independent, he was not willingly a member of any group—yet he was perhaps ZERO's most pure practitioner. While others experimented with installation, light and assemblage, and explored or had dalliances with different creeds, from the late-1950s onwards, Girke focused always on the meditative discipline of looking at and contemplating the "space", physically illusory but conceptually real, of (his) gestural paintings, always using the non-color white as a hybrid of medium and subject, and as an equivalent for the relationship between light, space and time. For one so committed to such a singular mode, he was neither didactic nor proselytizing. The ascetic discipline was personal.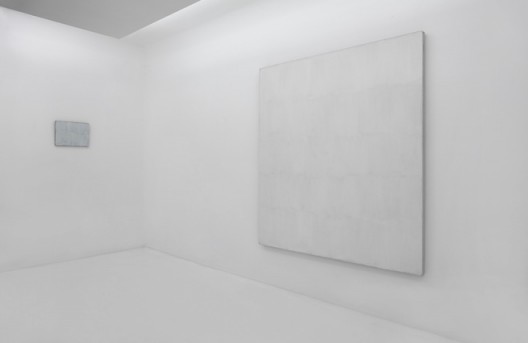 In the beginning
Recently there has been a resurgence of interest in the German "ZERO Group" of artists, including a major survey last year at the Guggenheim in New York: "Zero: Countdown to Tomorrow: 1950s-60s". To better understand the ZERO Group, one needs first to look to contemporaneous movements, not least because artists of one movement often were also members of others. In Western Europe, Art Povera, Minimalism, Op Art and Kinetic Art all reacted to the supposed Tabula Rasa left by the devastation of the Second World War, and the flotsam and jetsam that followed the tidal wave of American Abstract Expressionism, which was political as much as artistic (post-war Europe was far more ambivalent in its relationship with its Eastern Bloc neighbors than was its geographically distant American protector).
It is worth pausing to look at one example more closely. ZERO has been closely linked with the French New Realists, a heterogeneous group that included Arman (1928-2005), Françoise Dufrêne (1939-1982), Yves Klein (1928-1962), Jean Tinguely (1925-1991), Christo (b.1935), and that existed officially from 1960-1970. The nouveaux realists wanted to occupy a space separate from both non-objective abstraction and figuration (whether bourgeois decoration or Stalinist social realism). As art critic member Pierre Restany (1930-2003), put it: to engage in a "poetic recycling of urban, industrial and advertising reality", which notably included "décollage", an anti-collage, combining found objects and appropriations of urban spaces, good examples being Jacques Villeglé's ripped posters and Arman's collections of rubbish. It was more Dada than Pop. And it was French.
The ZERO group originated at the Staatlichen Kunstakademie in Düsseldorf, whose faculty included core members Heinz Mack (b.1931), Otto Piene (1928-2014), and Günther Ueker (b.1930) (until 1956, Raimund Girke also studied there). In 1957 Mack launched a magazine called "Zero", and this was followed by manifesto exhibitions Zero 1 (1958), Zero 2 (1958), and Zero 3 (1961). Internationally, Arman, Klein, Piero Manzoni (1933-1963), Antoni Tàpies (1923-2012) and even the aging Lucio Fontana (1899-1968) were associated with ZERO. The purpose was to return to the fundamental point of art, and in this sense may be equated with other romantic movements advocating a return to nature.
However, members of the ZERO Group saw themselves as idealistic rather than romantic. This distinction of perspective is important. As Piene later put it, they wanted to create "a zone of silence and of pure possibilities for a new beginning." (1) Unsurprisingly, this perspective was not unique. In Asia, for instance, the Japanese Gutai (具体) movement, founded in 1954 by painter Jiro Yoshihara (1905-1972), held similar tenets.
All political movements, including artistic, are mutable. They begin with idealistic intentions, at least superficially, and then adapt willingly or otherwise to changing circumstances, waxing egos, ennui with a former obsession, shifting fashions, and the impossibility of defining an infinitely complex universe. Ironically, it was another beginning—the fall of the Berlin Wall in 1989—that swamped the movement that had in many ways dominated the German art scene for much of the post-War period. Certainly the younger generation and artists such as Gerhard Richter (b.1932) and Sigmar Polke (1941-2010) thought the ZERO group was culpable of amnesia towards German history.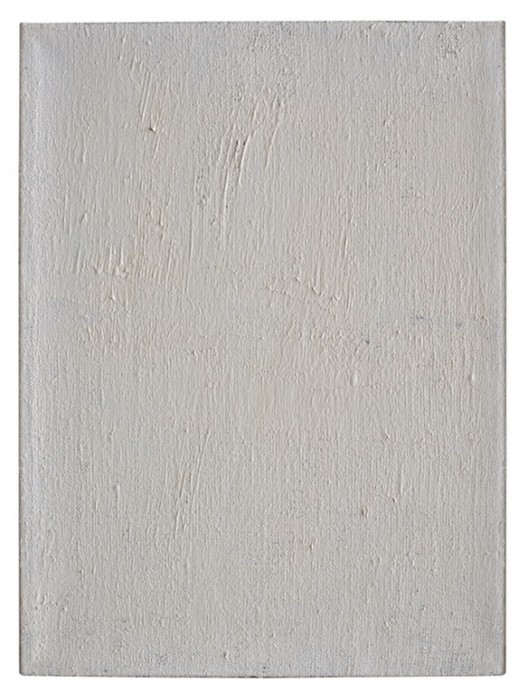 Point Blank
It seems the current flow of historically-blind abstraction cannot be staunched. The more hyped and expensive this wallpaper becomes, the more decorative, too. It is far from its origins. Abstract painting began as a refusal. Though it has been translated in academic texts, weighed and categorized, this art meant to fight control—to refuse to speak in any existing language, visual or verbal. Even now, to look at Jackson Pollock's "White Light" (1954), we first have to decide what it is, to describe its paint marks, its paint-ing", not just reiterate a catechism of symbolic content. The non-color white was crucial to this purpose. In Western art history, white was what was left out or removed, never the subject. But in the post-War world, people in the West and East Asia sought new systems to rebuild and remake society. In art, this included a type of ascetic monasticism, with the creation of works of contemplation, not instruction or narrative, whereby to know the world began with knowing oneself. Start with nothing, and look. What can you see?
Girke was very critical of the Neue Wilden. Recalling her father's comments, Madeleine Girke told me, "You have to be responsible for the "consequences of the power of your work" (Die Konsequenzen der Kraft Deiner Arbeit). In other words, thoughtful silence is louder than mere shouting: the work must stand for itself. In China, parallels might be drawn with the x/+ discipline of Ding Yi or Zheng Chongbin and, in his abstract works, Yang Jiechang's meditations on the physical-philosophical qualities of black ink. If there is any artist though whose work bares conceptual resemblance to Girke's practice, it is Agnes Martin (1912-2014), who, like Girke, was also informed by Buddhist teachings, not as the ordaining principle for making art but as part of a framework for returning art to fundamental principles. At the heart of this is a questioning of art's role—why do we have it? This question is not meant to be answered. Rather, attempting to understand the question is the point. The practice of asking the question—of looking at and into the actual and virtual "space" of the painting—forms a point from which everything can be considered; not necessarily within the painting's framework but from its perspective. It is a meditative practice engaged specifically with the purpose of creating positions for contemplation, including for reflection upon the past wrongs of society (of course, Richter et al would say, regarding German history, that that is not enough). Nevertheless, it remains a practice, not an end in itself.
Against the ebb of time, painting— particularly abstraction— offers a prism of respite. The words "drawing" and "painting" infer both noun and infinitive. In a sense, they are never finished; there is no end. Girke's practice in later life often returned to earlier work. Towards the end of his life, no longer able to manage large-scale painting, he engaged in drawing. In hindsight, these are key works. The drawings are about the paintings and their painting. Within the space of a drawing on a sheet of paper, a space defined by the hand and eye, scale is infinite. Time and space become essentially the same, a mix of light and darkness—grey.
Grau
die Mitte
der Ursrpung
(Grey
the middle
the source)
—Raimund Girke, Cologne, December 2001 (4)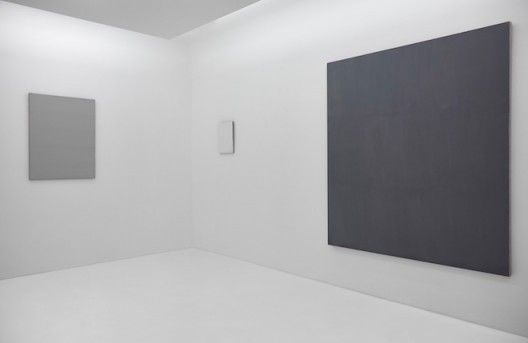 Notes
1. Raimund Girke, "weiss", integration 5 und 6, Zeitschrift für eine neue Konzeption der Kunst und Kulture, Arnheim, April 1966), in 28101930. Raimund Girke, published by Madeleine Girke, Berlin, edition 397/500.
2. Karen Rosenberg, "Hail, the Postwar Avant-Garde 'The Art of Zero,' at Purchase College, New York Times, August 21, 2014: http://www.nytimes.com/2014/08/22/arts/design/the-art-of-zero-at-purchase-college.html?_r=0
3. Thomas Eller, "Otto Piene, ZERO Group Founder, dies at 86", 22 July 2014
4. Raimund Girke. Grau der Ursprung, ex. cat., Edith Wahlandt Galerie: Stuttgart, 2002.