by Wendy Vogel

"Anri Sala: Answer Me"
New Museum (235 Bowery, New York, NY 10002, USA), Feb 3–Apr 10, 2016
Contemporary artists can work with sound in two ways: as material and as a subject of cultural history. The material approach—aka sound art—was for a long time marginalized in museum settings. Today it flourishes as a genre with roots in experimental music, site-specific installation, and performance. The cultural history of sound spans both music and language, from album-art appropriation and pop ephemera to works dealing with the subject of translation. Anri Sala (b. 1974, Tirana, Albania), has explored historical memory and notions of utopia since the late 1990s, when he produced a video with his mother that reflected on her role in an Albanian communist youth organization. The artist has increasingly turned to sound as both material and subject in his recent multimedia installations. "Answer Me", Sala's solo exhibition at the New Museum, contextualizes his two-decade career through his sonic preoccupations.
Indeed, the design of the exhibition—Sala's largest survey in the U.S. to date—privileges a symphonic experience. Rather than a chronological overview, the show is organized around immersive installations that have been configured especially for the site. These artworks occupy prime real estate on three floors, opposite the elevator banks. Sculptural works and earlier videos reside in smaller, more peripheral spaces. There are practical reasons for these display decisions. Still, they notably reverse the logic of museum presentation, which often relegates complicated sonic art to stairwells and back corners.
It is striking to see Sala's early, lo-fi videos alongside his recent high-production efforts. In the 1990s and 2000s, the Albanian artist became known for poetic explorations of life in post-Communist Europe. Along with artists like Harun Farocki, Omer Fast and Deimantas Narkevicius, Sala experimented with the documentary form itself. "Intervista" (1998, showing on Wednesdays in the New Museum's basement) concerns Sala's rediscovery of decades-old silent footage of his mother being interviewed in her former position as secretary of Albania's Communist Youth Alliance. Sala worked with lip-readers to subtitle the film, which he then shows to his mother onscreen. She proclaims both her syntax and strict ideology "gibberish," stressing the importance of doubt when confronting political dogma. "Dammi i Colori" (2003), perhaps Sala's best-known work, documents an avant-garde intervention by Tirana's then mayor Edi Rama. Trained as an artist, Rama initiated a plan to paint bright, colorful passages on buildings in a neighborhood long neglected by the government. The footage is mostly filmed outside a car window, with Rama (now Albania's prime minister) narrating beside Sala.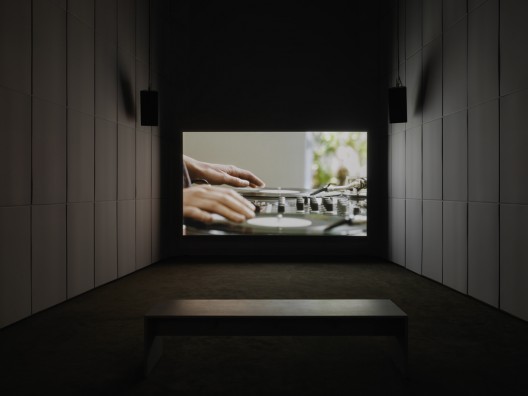 "Làk-kat 2.0 (British/American)" (2015), a stark but powerful work, addresses the colonial legacy in Senegal. In the two-channel video, which expands a 2004 version of the same piece, Wolof schoolboys are instructed to repeat words signifying variations of "light" and "dark." Subtitles on each screen (by Homi K. Bhabha and Hywel Williams) depict conflicting translations: one includes more straightforward definitions, the other more racially loaded interpretations. The quasi-sadistic exercise of rote repetition—interspersed with images of moths clustered against an artificial light—performs a potent illustration of insidious colonial imprinting.
Sound becomes more abstract and sublime in Sala's newer installations in which it acts as a distancing mechanism, highlighting the impossibility of communicating or of collapsing temporal moments. In "Answer Me" (2008), screened on the third floor as part of a loop, a woman and man attempt to converse in a geodesic structure built in Teufelsberg, outside Berlin, to house Cold War-era NSA operations. Each time the woman (who stands in as a signifier of gender-based oppression) tries to speak, the man pounds furiously on a snare drum; her pleas of "Answer me!" become the only comprehensible words.
Sala's most recent installations address avant-garde composers and the devastating world wars. "Ravel Ravel" and "Unravel", both 2013, take the French composer Maurice Ravel's "Piano Solo for the Left Hand in D-major"—composed for the wounded Austrian pianist Paul Wittgenstein—as a point of departure. The work was commissioned to represent France at the Venice Biennale, but was installed in the German pavilion. For "Ravel Ravel", Sala arranged the piece for two different pianists at slightly different tempos, who he then filmed. When screened together in a room with semi-anechoic properties, the synched films seem to produce an echo, as the players' compositions temporally drift. "Unravel", screened in an adjacent space, documents a DJ emulating the score at a turntable setup, manually speeding up or slowing down two LPs to match the score.
"The Present Moment (in B-flat)" and "The Present Moment (in D)" (2014), a two-channel video and sound installation first shown at Haus der Kunst, considers the avant-garde in the context of Nazi architecture. In Haus der Kunst, a palace built for art approved by the Third Reich, Sala staged two concerts of "degenerate" Viennese-Jewish composer Arnold Schoenberg's late Romantic string sextet "Verklärte Nacht." In each video, the musicians play the entire composition with only B-flat or D notes, which are stretched throughout twenty speakers throughout the space according to Schoenberg's later serial composition rules. The cacophonous aural experience, mimicking Schoenberg's twelve-tone technique where each note on the chromatic scale is heard an equal number of times, is complemented by snare drum sculptures whose sticks tremble occasionally, as though haunted by history.
Verging on bombastic, the installation perhaps asks too much of both the artist and the viewer. In order to fully appreciate this work, one needs not only knowledge of 20th-century architecture, avant-garde music and art, but also a rapt attention span and an ear primed to parse Sala's sonic tricks of the trade. The method epitomizes Sala's desire to have it all. He strives in equal measure to be aesthetically generous and conceptually demanding, to make sound an equivalent material and concept. It's a noble goal for any artist. But as the earlier works in this exhibition make clear, sometimes it is not necessary to turn up the volume. Unless, of course, you want to make a lot of noise.