"Eulogy – In Memory of Hans van Dijk," Tang Song Solo Exhibition
Boers-Li Gallery (1-706 Hou Jie, 798 Art District, No.2 Yuan, Jiuxianqiao Lu, Beijing 100015, China) Mar 23 – Apr 20, 2013
This "Eulogy" by Tang Song is a display of great density – both physical and immaterial, of input and effect. Avoiding for a moment the emotive and historical import of these works (the first thing on the wall is a double photograph of Tang Song being pulled away from the National Museum in 1989), their tangible qualities are absorbing.
Roughly speaking, there are two kinds of work here. The first uses blue and black paint which marks the canvas irreparably in layered fashion – the surfaces have been scrubbed, scored and scarred with paint which in places has a spattered, tar-like texture. Lines reverberate architecturally in vertical, criss-cross and diagonal directions, inscribing phantom shapes as if some way back inside the canvas field. "Fig Leaf" (2012) is an excellent example, wherein a ghostly pyramid shape appears amongst cross-hatched blue lines which recede as if to create a vanishing perspective. On the floor lie the two great wooden spools bounding a monumental canvas 25 metres long – an "action painting", we are told, that will be ceremonially unrolled at the close of the show. On the wall is its maquette – a smaller length of canvas with a run of dark line, its seismic pattern not unlike markings on some sort of measure or scale, reminding one of sound or vibration. The second type of work is white with stains of aqua or orange colour which are seemingly rubbed over or injected into thick vertical bands of paint; these have been pulled whilst still wet, the results akin to scratches or scrapes on a plastic skin. Theirs is an abstraction at once intricate and restrained – they share the phantom quality of their dark cousins on the other walls, yet staged instead on blanched, troubled fields that have been obliquely tested, as in the distressed parts of "Bridge 10" (2012), for example.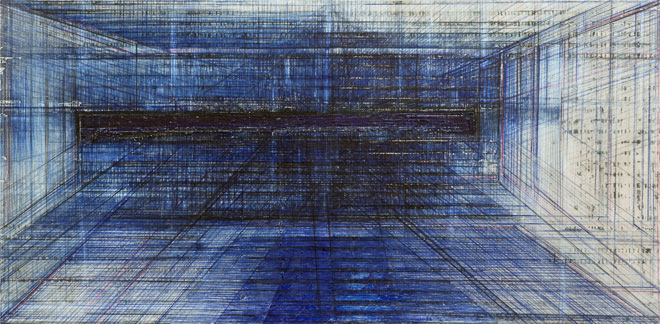 There is a single work which one realizes holds the suggestion of a portrait — "Bridge 1". It is the head of Hans van Dijk, the noted art historian and curator whose influence on artists like Tang Song in the late 1980s and '90s was great. The exhibition text attributes to van Dijk having impressed upon them the principle that art should be "real" and direct, not something based on representation. The photograph at the start of the show augments the testimony to that time, recording Tang being arrested in 1989 on the opening day of the infamous "China Avant-Garde" exhibition for firing gun shots into the work of his then-girlfriend Xiao Lu, though it was in fact she who had done so. Van Dijk died in 2002, and this exhibition is a Eulogy is addressed to him.
Such a pretext — these works have been 5 years in the making, and represent both investigation and reflection relative to Tang's mentor and sources of artistic learning — lies across the exhibition, placing a depth of emotion and reminiscence beneath it without which painterly abstraction might speak purely to the eye. There is such a force of repeated action amongst the canvases, a sense of the perpetual and transcendent that arises from grids, and of uneasy accumulation over time. One wonders at the mood of this artist, looking back at his teacher and at years of aesthetic consideration, and at that infamous moment in 1989 to which he was integral. In this light – or shadow – the works take on a visually onomatopoeic feel; one might imagine their etched lines and internal structures as registers of affection and concentration, the straightness of the lines constantly evoking an apex from which their density at the same time distracts. One has a sense of the simultaneous distance and proximity of history- the series is called "Bridge," by which Tang Song indicates the crossing of divisions between times and knowledge. But for this viewer, at least, the works demonstrate this less than they do a sensation of ferment through form, and of the revealing potential of minimalism and accumulated line — in their very abstraction.