Institute of Modern Art (420 Brunswick Street, Fortitude Valley, Brisbane), Dec 13–Mar 22, 2014
(Coproduced with the Van Abbe Museum, Eindhoven)
In his book, The Communist Postscript, Boris Groys gives us this pivotal insight: "The leftist critique of the institutions of capitalist society is a discourse formulated during the Cold War by Western governments against Soviet Communism". This critique has then "…been repurposed as a self-critique of the West."(1) For Groys, this explains the ongoing allure of such leftist thinking in Western discourse. It also explains why such discourse is so "astonishingly homogenous…it is always the same things being criticized from the same arguments." To Groys, such arguments are a sort of ready-made: "…for every society is prepared to accept a critique that has already demonstrated its effectiveness in the struggle against the society's opponent". Groys then puts the knife in and twists it: "critical discourse in the West circulates primarily as a commodity on the media market…the sales potential of this critique is therefore potentially infinite". In the catalogue for Hito Steyerl's recent show at the Institute of Modern Art (Brisbane), the texts are littered with references to Marxism, neoliberalism, etc. For example, in Nick Aikens' essay in the exhibition catalogue, and indeed in many essays elsewhere, Eisenstein's 1928 agitprop film October and the multiple stormings of the Louvre in the 19th Century seem fetishized. They are obvious key components and reference points of Steyerl's video "Is The Museum a Battlefield?" But: they are also very "normal" historic markers for the Left —clichés even.
Again, in a recent and extremely important new online text by Steyerl, the artist/writer rails: "Contemporary art is made possible by neoliberal capital plus the internet, biennials, art fairs, parallel pop-up histories, growing income inequality. Let's add asymmetric warfare—as one of the reasons for the vast redistribution of wealth—real estate speculation, tax evasion, money laundering, and deregulated financial markets to this list."(2)
I am in total agreement with her. The text is polemic, which allows for flaws, but I still wonder if by using such rhetoric we are all falling into a trap/cul-de-sac. We use the same arguments, the same referents, over and over. Is this not nostalgia? As "soft" as the Right's nostalgia? It is the same rhetoric applied to a forever-new product: critical discourse as product. New Single OUT NOW…forever.
I greatly admire the work of Hito Steyerl, but this IMA exhibition was disappointing. Steyerl is a video / performance / essayist artist, while her 3D works and the architectural interventions designed by others are very normal and dull examples of what passes for gallery-bound art these days. I don't wish to dwell on this, however. The most cogent work by Steyerl I have encountered (on Vimeo) is her video performance piece "Is the Museum a Battlefield?", originally made for the 2013 Istanbul Biennial. As the introduction essay of the handsome IMA / Sternberg Press exhibition publication tells us, this work shows how Steyerl "has turned her attention from a politics of the screen to the institutions, mechanisms and money that lubricate the art world in which she (Steyerl) is enmeshed."(3) Personally, I have had many a conversation with art institution folk who have insisted that art is somehow inoculated from the machinations of the "outside" world, even when one sees first-hand how vicious insider art world behavior can be. I have always felt an enormous hypocrisy has been / is woven throughout art, especially art that has "socio-political" concerns.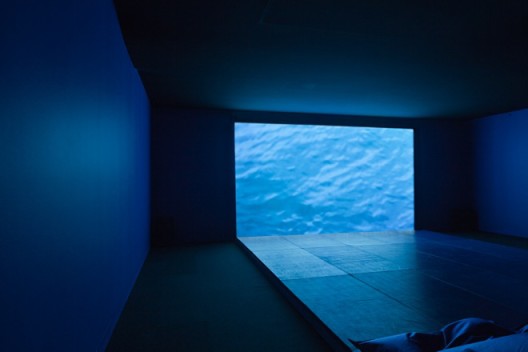 "Is the Museum a Battlefield?" is, in my assessment, the most powerful condemnation of organized Capital "A" art since that seminal "classic" of institutional critique, Hans Haacke's"Shapolsky et al. Manhattan Real Estate Holdings, A Real Time Social System, as of May 1, 1971", which carefully documented the underhand practices of one of New York's biggest slumlords and which caused Haacke's MOMA solo exhibition to be cancelled.(4) In "Battlefield", Steyerl begins with an imagining of a bullet that killed a friend of hers, Andrea Wolf, in 1998 in southeastern Turkey for fighting with the PKK [Kurdish Workers' Party—a political liberation movement or a terrorist group, depending on whom you ask]. Constantly returning to the bullet, Steyerl takes the viewer on a journey implicitly implicating art institutions in the mesh of money and power. Steyerl also points to the similarities between military structures and buildings and art museums—indeed, one Frank Gehry-designed museum even has a similar shape to the bullet that killed her friend Andrea Wolf. From here, things get loopy. At the spot of the mass grave that Wolf and the others were buried in, Steyerl locates a 20 mm ammunition case manufactured by the defense contractor General Dynamics, and attempts to trace its path back to its origin. We are told the General Dynamics headquarters look exactly like a missile when seen from Google earth; that the building was designed by Frank Gehry; and that the software used to design the headquarters is also used to design helicopters. Why exactly Gehry is singled out for vilification is unexplained.
Steyerl's work is so cogent because, as a provocateur, she is able to coherently foreground the mechanisms of art that have long been buried and ignored. If art is to advance we must face up to our collective "complicity of concern". What is wrong with total transparency in art? Art is a Symbolic space, after all. Importantly, the Sternberg Press book is full of telling bits of information. Nick Aikens's text recounts a partly fictional conversation from a recent essay by the artist Walid Raad. The conversation is with one Mordechai Scniberg or "Moti" as he is known, founder of the Artist Pension Trust (APT). Raad tells Moti that he is worried that APT has links to the Israeli Defense Force. Moti replies: "Please don't tell me that you are one of those naive left-wing pontificators, head-in-the-sand pontificators who actually think that the cultural, technological, financial and military sectors are not, and have not always been, intimately linked." Steyerl goes much further than this. She makes an argument that it is not so much the acknowledgement of the murky world of art and the need for transparency. Steyerl asks us to consider "…what would happen if the trajectory that begins with corrupt private money or bloodied hands and ends up in international exhibitions and galleries could be reversed."(6) Steyerl broadens the arguments to include us and our own bodies, which are actually fuel for the endless machine of contemporary art.
Australia is particularly prone to a Cargo Cult mentality. Hito Steyerl's "Too Much World" at Brisbane's Institute of Modern Art is just the latest in a long line of fetishized imports of "internationally important art". Cultural tourism with its emphasis on destination works and exhibitions is one of the main "outcomes" cultural institutions are forced to highlight to receive ongoing public funding. The last example I saw was Kaldor Projects's Santiago Sierra event at QAGOMA in 2010.(7) The restaging of the artist's work was reduced to an "image" of itself with a hip art crowd audience entranced by the reproduction of a work they had first encountered as a reproduction in an international art journal. It was "concerned" art as consumer product funded by a wealthy person for a government institution. Sierra was very disappointed in the show—he told me so himself. This snippet links well to Groys's observations on leftist thought in the West. Always in soft Marxist texts someone or something is implicated by the rhetoric—though unnamed, this entity is the target of the text. At times one feels personally implicated, as if one is not "political" enough, not good enough. In Australia this is now most apparent in Indigenous activist art such as the collective ProppaNOW. To me, the texts have always seemed undercooked as they fail miserably to actually even slightly dent the real power structures buried in contemporary art. ProppaNOW actually commodify racism, not develop on from racism.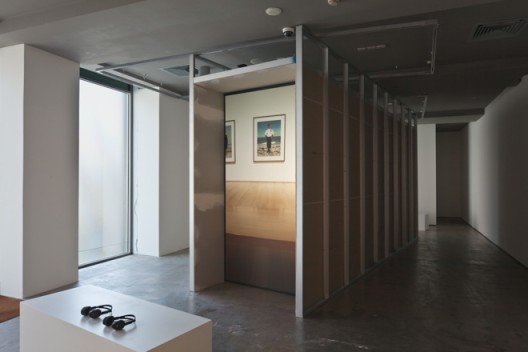 As I wrote this, international tourists were murdered by terrorists at the Tunisian Museum and displaced Yemenis use looted and empty museums as shelters; both are conflicts that the West is inextricably linked to. Also, we must own up to the fact that with the anything-goes-flat-pluralism rampant in art now we only have the value hierarchy of the market (along with a subservient academia) to bring any sense of clarity in the current situation. In short, finally we have seen the end of Modernism and its structure of competing "–isms". As Steyerl herself says: Too Much World. Art now is only a series of desirable props for an international game of money and power. Maybe that is all it ever was. In addition, and to belabor the conflict metaphor further, can we not also say that artists such as Steyerl "rise" to the top like cream over a whole multitude of unpaid or lowly paid artists and arts workers who will never gain any recognition—a sort of Canon Fodder for the 1%. Bourgeois pluralism will always have its losers and winners—again, where there is no structure, there is no value.
Contemporary art has also reached a level of astonishing homogeneity and unfortunately, this showing of Steyerl's work is no different from any other exhibition of video works fleshed out into installations. Her works are really better on Vimeo than in the mainstream contemporary art context. However, Steyerl remains a complex and wonderfully flawed artist whose practice, whose entity, is deservedly enjoying large-scale international success. Steyerl is the current New Single OUT NOW. Buy it.
Correction: This article has been amended. The original quoted a now discredited article published by the New York Review of Books concerning then alleged construction worker deaths on the al-Wakrah Stadium, designed by Zaha Hadid. There have been no construction worker deaths on the al-Wakrah Stadium site. Accordingly footnote 5. has also been deleted but the Editors note has been left.
Notes
1. Boris Groys, The Communist Postscript, Verso, London 2009, p.84-8.
2. www.e-flux/journal/duty-free-art/
3. Nick Aikens (ed.), "Too Much World: The Films of Hito Steyerl" in Too Much World, ex. cat., IMA, Brisbane; Van Abbe Museum, Eindhoven; Sternberg Press, Berlin p.11.. This quote is from the introduction to the IMA catalogue edited by Nick A. He also has the Black Box essay in the same publication.
4.Wikipedia: http://en.wikipedia.org/wiki/Hans_Haacke
5. (See Correction above) EDITOR'S NOTE: Steyerl has mentioned Hadid on other occasions.
6. Bullets from the Black Box: Hito Steyerl's Is the Museum a Battlefield? and Guards, p. 186, in Nick Aikens ed., Too Much World: The Films of Hito Steyerl, Ibid p.187
7.Santiago Sierra, 7 forms measuring 600 x 60 x 60cm, constructed to be held horizontal to a wall, GoMA, Brisbane, 20-28 November 2010
http://www.qagoma.qld.gov.au/exhibitions/past/2010/santiago_sierra