"Everything Is and Isn't at the Same Time"
Galerie Huit (SOHO 189, No. 189 Queen's Road West, Sheung Wan, Hong Kong), Mar 18 – May 6, 2016
In "Everything Is and Isn't at the Same Time"—a solo exhibition by Troika, the collective of Eva Rucki, Conny Freyer and Sebastien Noel who have worked together since 2003—every piece of work as well as the show as a whole is a combination of well-calculated arrangements and randomness. The materiality of time—a contradictory concept in the first place—is what Troika attempts to address in their work. But rather than reconciling contradictions, the exhibition suggests multiple conceptions of time: as the cause of strict linear development, as a conceptual effect of linear development, and as disrupted development with humor.
"The Sum of All Possibilities" (2014), a sculpture spinning on a 12-minute loop with inconsistent movements of its inner parts, is the only kinetic work on show in an otherwise static exhibition; yet time is not only revealed by movement. "The Sum of All Possibilities" also informs viewers that randomness is a moment taken from a course of development and that time is therefore implicit in randomness. "Calculating the Universe" (2014) and "Hierophany" (2014)—thousands of black and white dice arranged as algorithmic patterns—on the other hand, suggest the opposite. In these works, random numbers on the dice expend minimal time in defining imagery through pattern. In other words, time—from the "start" to the "end"—steers the randomness thus produced.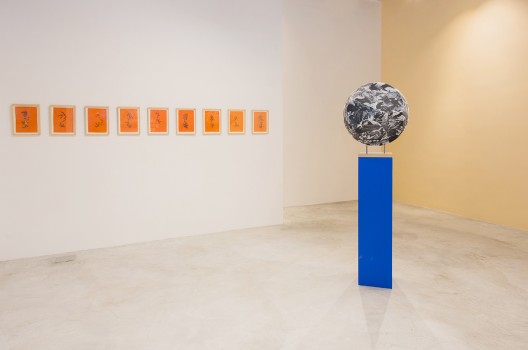 If the suggestion of a manifold conception of time were not clear enough, "Everything Is and Isn't at the Same Time" (2015) shows the union of different temporalities more explicitly. As the title of the work suggests, this sculptural form combines a perfect circle, a perfect square and a perfect hexagon; the three become less individually recognizable in the combined work. Therefore, as much as time exists in manifold forms, including a possible material one, not all of them are entirely visible. In this exhibition, art is charged with making visible various forms of time, including its material ones.
On the upper floor of the gallery are a few versions of "Circular Ruin" (2016), with a couple of labyrinthine patterns marked on paper by passing colored smoke through a labyrinthine structure onto it. An awareness of this process allows the viewer to discern the openings and pathways of the maze structure. Yet, the colored smoke also indicates how the flows backfired at certain points. In the context of time, this work raises the possibility of multi-directional but imperceptible progression; under normal circumstances, only the strictly unilateral form of time appears to us.
Put differently, Troika's exhibition is humorous and lighthearted. To think about time as prompted by these works might feel simultaneously deep and comical owing to the coexistence in them of both complex gestures and apparently simple forms. Troika brings different conceptions of time and materiality together with a type of operative humour that serves to connect meaning with presentation in unlikely ways.