By Liang Xiao
In 2019, Zheng Bo once again introduced the "workshop" into his exhibition Goldenrod held at the Institute of Contemporary Arts at New York University in Shanghai. "Eco-Socialist Garden" is a project that includes workshops, architectural models, and printed material. Zheng Bo invited a group of volunteers from different professional fields and divided them into two groups. He asked each group to imagine a garden for the new campus of NYU Shanghai. The results of their discussions were then made into models and placed in the exhibition space, along with accompanying design instructions. The participation of this diverse group adds complexity to the exhibition. It is as if Zheng Bo built a limited thinking space, but then encouraged each person therein to move freely. Even as the "leader" of such an activity, Zheng Bo did not know each group's course of action. The more interesting question is: how exactly did these people understand Zheng Bo's intentions? Do they need to understand them?
There are many terms appearing over the years that can be used to discuss Zheng Bo's work. One such term is "New Genre Public Art," which describes art practices emphasizing the dematerialization of the work of art and place importance on processes of public participation, the latter of which is the focus and significance of the work. The artists of "new genre public art" do not directly provide "exhibition objects," instead they organize encounters, initiate actions, mobilize various social elements, and usually possess clear social movement goals that they want to achieve. The resulting output of "new genre public art" is most often only a process, with transmission and participation constituting the specific content of the artistic work. However, in today's exhibition-based art system, artists working in "new genre public art" need to deal with various physical materials first: texts, archives, conversation records, and even the many communication documents generated throughout the process of organizing the project. Only then can new possibilities emerge and be woven together in the public space created by the artist. Perhaps the most distinctive feature of "new genre public art" is the degree of social intervention it entails. The specific form of such work and public responses to it can be used as criteria for judging its degree of involvement, while the overall determining premise is reliant on the clarity of the social issue that the work seeks to address. In 2015, Zheng Bo created the work "Sing for Her," in which the artist collaborated with the Filipino community in Hong Kong to record a Philippine pop song. The song, which was widely popular in the 1930s and 1940s, is notable for its theme of expressing the Philippine people's strong desire to achieve national independence. The final presentation of Zheng Bo's piece took the form of a huge metal megaphone. On the one hand, the social issues that Zheng Bo sought to address in this work were very clear: the labor rights and political demands of Filipinos in Hong Kong. And in terms of aesthetics, the metal megaphone towering prominently on Tsim Sha Tsui Public Square in Hong Kong established an effective aesthetic form.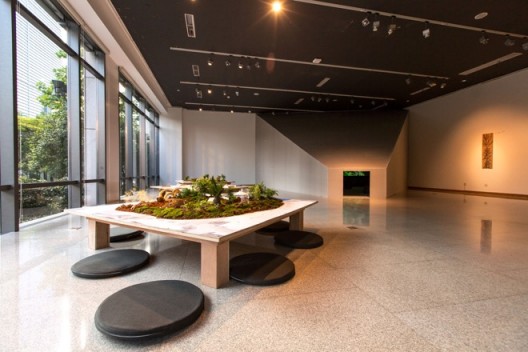 As for the workshop, Zheng Bo's aims are also clear: first, to bring together different professionals to discuss and learn about ecological issues; second, this workshop is intended to provide ideas for the garden design of the new campus of NYU Shanghai, in the hopes that the actual garden construction design will not be bound by traditional horticultural ideas, instead taking on a more open and radical outlook. If we try to state that this second aim leans toward social intervention, the basis of intervention is only the imagination that emerges from the first aim. But in this imagination, we seem to be able to see something more telling than mere action. The results of the workshop discussion groups included two manifestos in addition to the design instructions. One of them states: "Our garden must nourish. Our garden must connect. Our garden is not poisonous…." Zheng Bo's actions may not be serious enough to be termed "social intervention," but they certainly embody a "social imagination" that is full of hope [1]. This is a practice where idea takes precedence over form, and also holds greater artistic interest than dealing with problems of form.
The feedback given by the workshop participants forces us to re-examine some basic art-related questions, such as: what can art do? What kind of influence does art have on reality? One workshop participant, an ecologist named Zhang Minhua, described her "Tree of Life" contribution to the garden design plan: it consists of a carefully designed route where people can experience the evolutionary history of plants. Here, visitors will first encounter ancient moss plants, ferns, then gymnosperms, and finally angiosperms. Zheng Bo believes that this is a feasible design scheme for the actual garden construction. It is not an idea proposed by a professional landscape architect, but originates from the inseparable link between an ecologist's experience and intuition. In society today, with its hyper-developed mass media and information systems, people work to control and expand their own knowledge boundaries, but at the same time they squeeze out other existing spaces of knowledge that could be used to exchange with others. The result is that the most efficient intermediaries to connect people become commercial activities, while the other elements of life are isolated from each other. In the social sense, what should art activities aim to achieve, and how can a strong connection with the outside world and various groups be maintained? Such queries have troubled many an artist in their work. According to Nicolas Bourriaud, "Art strives to achieve some limited connections, open up some blocked passages, and reconnect the various levels that are separated in reality." [2] Perhaps, Zheng Bo 's workshop is a truly effective realization of this mission. Moreover, discussions of his attempts should not simplify or reduce his work to a mere complement of more mainstream "contemporary" artistic practice.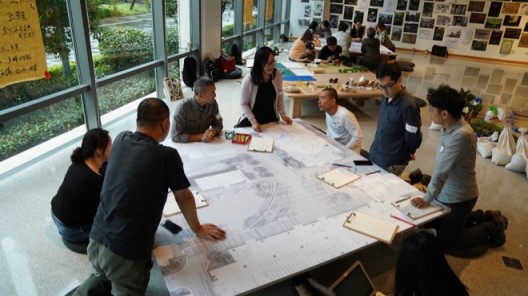 [1] From an interview between Zheng Bo and the author.
[2] Nicholas Bourriaud, Relational Aesthetics, Translated by Huang Jianhong. Foreword to the 2013 edition of Jincheng Press.