Nanjing Arts Institute Art Museum (No. 15 North Huju Road Gulou District, Nanjing, China), Mar 4–31, 2016
The short duration of the "Silk Road International" exhibition was in itself a direct reflection of the corporatization [1] of Nanjing Arts Institute Art Museum, which played right into the exhibition's hands and accomplished what it set out to achieve.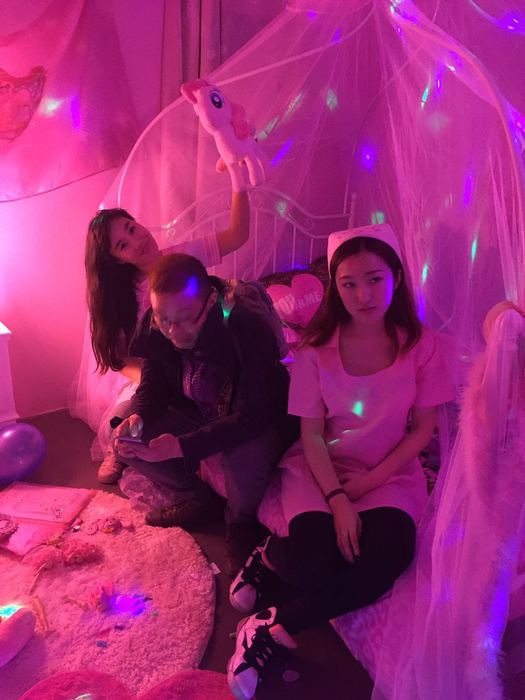 I can't recall seeing an exhibition like "Silk Road International", for which the curatorial approach almost resembled a carefree excursion, and ultimately used what can only be called "appropriate chaos" to cater to its theme. The classic daily routine maintained by its curator Wang Yamin (i.e., going to bed at 9 pm each night, and waking up at 4 am) was a forceful jolt to the existing protocols of art practice, and enabled some possibilities for the planned chaos of the show. Notwithstanding the enthusiasm of a curatorial team comprised of youthful art students, they cannot be relied onfor such corporate activity as "exhibition implementation", which most nearly presages their desolate prospects when they face the cold reality of China's future. In the end, spatial rivalries among participating artists (groups, companies, projects, plans, and platforms) failed to be deterred by the curator. The result was a big, clamorous marketplace.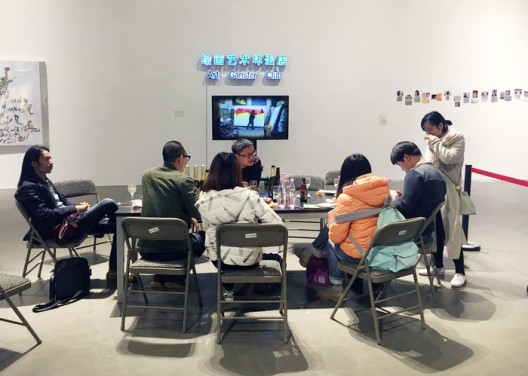 In the preface, Wang Yamin had already pronounced that this exhibition would amount to self-organization along the line of taking things as they come, and would succumb to a state of disorder. Many art groups, projects, individuals, and platforms representing the mechanisms of corporatization accumulated in Number Three exhibition hall of the Nanjing Arts Institute Art Museum much like vendors and peddlers; the opening ceremony was a scene of bustle and excitement, but there was little, or little desire for, contact between the "corporations". Isn't this the fundamental trait of small producers? Even those groups, projects, platforms, or plans that sought independence and autonomy wound up being engulfed by the very force they were dead against—how strange! These strategic groups had followed their own paths from the outset to resist existing practices, yet one found them mumbling quietly in their own self-created construct, engaging in self-regulation but relinquishing participation—no matter what might have gathered them together. The audience (customers) wandered aimlessly into the exhibit, unable to find any valuable merchandise beyond seeing each corporation's performance; they thus met with serious setbacks in terms of whatever "value" they might have been seeking.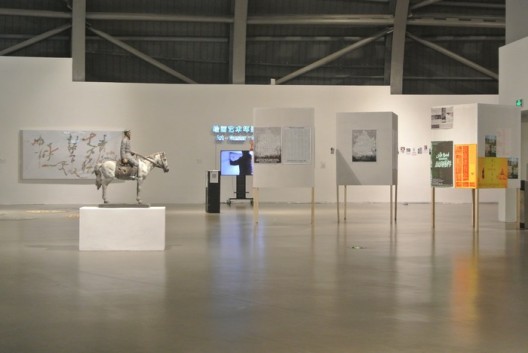 That the exhibition took place inside an "academic construct" like the Nanjing Arts Institute almost lent a sense of internal collapse; this was all but destined considering Wang Yamin's strategic pivot through several earlier "Zero Scheme" Plans (the participatory curatorial project based on "Zero Exhibition Hall" initiated at this museum in 2013). Since the end of 2014, this "international project" has been carried out twice; the precursor of "Silk Road International" was an exhibition about outsourcing domestic sales, which in hindsight was doubtless an early variation of "Silk Road…".
But "Silk Road International" was neither "Silk Road", nor "international" [2]; perhaps more than anything else, it was a temporary coalition of small urban producers. The curator no longer controlled the layout of works in the exhibition halls to create a "literary ambience" that echoed the theme, as in the previous exhibition. That ambience originated from artistic practices and curatorial techniques, not the current economic reality. In "Silk Road International", however, a muted curatorial approach turned the exhibition halls into a flat space which discarded one-on-one contact and instead created a "value-neutral" atmosphere. There were hardly any clues, nor any divisions between different areas. Makeshift walls, black rooms, shacks, and bulletin boards were everywhere; whereas the main exhibition hall was treated like a square in which several smallish installations and sculptures were sparsely positioned, works of painting and other media were lined up against the wall, various kinds of literature were bluntly pinned up as if on a graduation display board, and an anxious audience was left sauntering and roaming, getting lost and frustrated.
Is this not the dreamlike reality of contemporary China?
---
[1] "Corporatization" is the central thesis Wang Yamin expounds in the "Silk Road International" exhibition. Here, "corporatization" does not only refer to the existing art practices in a capital(ist)-oriented culture; it concerns more the trend of "individual corporatization" that individuals—be it individual artists, independent art groups, independent projects, or independent space—undergo from the inside out. It is exactly this internalized "corporatization" that makes it particularly difficult for us to get away from "corporations" in the art world. The word "corporatization" cannot be substituted by "institutionalization"; the latter conveys no more than its literal meaning, simple and direct—the establishment of goals, realization of benefits, self-regulation, internal democracy (and autocracy at the same time). "Corporatization" is the specification of "institutionalization", an economic model and behavioral model.
[2] Practical factors also contributed to the incongruence of this exhibition. For the exhibition's thematic change from "emotional education" to "Silk Road International", please refer to Wang Yamin's article "The Stowaway Exhibition". Why call it "Silk Road International"? On the one hand, it compares that volatile community with narrow interests, historically, to today's contemporary art world; on the other hand, it derives completely from the author's speculation—given its connection with President Xi's "One Belt and One Road", will it more easily stay in the arts institute's (or related agencies') good graces?