"Seeds of Time" at Himalayas Museum (869 Yinghua Road, Pudong, Shanghai), Apr 22–Jul 30, 2017
Tucked away inside the Himalayas Museum in Pudong, "Shanghai Project, Chapter 2, Seeds of Time" is an impressive showcase of very contemporary dilemmas—the impact of human activity and technology on the environment and our consciousness at large. Conceived by superstar curators Hans Ulrich Obrist and Yongwoo Lee, the show is an ambitious look at artists and collectives responding to arising crises in sustainability—how do we bridge ever-widening gaps between leading-edge research, polarizing media, and mass understanding? With the exhibition title taken from an eponymous documentary about the agricultural pioneer Cary Fowler, whose fight for crop diversity has culminated in a global seed vault, the ongoing Shanghai Project is driven by a poetic aim: to germinate awareness of the gravity of our shared ecological situation, and have it spread like wild seeds. As the exhibition guides greatly outnumbered the visitors, the space felt like a derelict playground in which pockets of apocalyptic critique and poetic hopefulness co-exist.
Spread out on two floors, the exhibition ranges from paintings to video and sculptural installations, video games to socially engaged practice, with 34 works by what the project terms as "root researchers". The massive atrium is set up so that each installation, taking a firm and dramatic stance, greeted me as though at a car sales convention. Yoko Ono's performative pieces "Wish Tree", and "We're All Water" set up a tone of wishful, if not futile, plead to humanity, while Yu Hong's fantastical vertical triptych "Ever Higher, Ever Further", depicts a despondent scene where both birds and humans desperately cling on to a telephone pole in the effort to escape menacing tides. Upon seeing my own rippled reflection in the gigantic mirror hanging above, I realized that the exhibition design has successfully created a theatrical stage, where we, as viewers inextricably enmeshed within this interdisciplinary landscape, have no choice but to reflect on our own ethical involvement.
The show paid special heed to orchestrating a well-rounded viewing experience that is at once visual, auditory, olfactory, tactile, and theoretical. "Exit", a striking 360-degree installation work by design studio Diller Scofidio + Renfro, uses data visualization to explore migratory movements on a global scale, as well as the decimation of natural resources and cultural diversity. Liu Chuang takes the over-proliferation of willow catkins, an environmental concern local to Beijing, and suggests the counterproductive effect of measures that attempt to curb the problem. If certain works take the format of explicit critique and hold mass appeal, others elaborate on subtler questions of post-humanism and site-specific futurisms, as a way to break out of anthropocentric mindsets. Whereas Qiu Anxiong's animation playfully imagines taking a sightseeing capsule around a Shanghai completely submerged in water, Sophia Al-Maria's multi-media installation commingles mythology, feminine power, and anxiety about Holocenic destruction, weaving together an impossible love story. To me, these critical rumination on the future are particularly pertinent to a China where with each day, State-sponsored development of technology takes immense pride in the ability to make musings of tomorrow present-day realities. They make us attentive of the role that individuals can play in discerning and thereby personally intervening in seemingly unstoppable acts of progress, leaving me with an unshakably sticky sensation that could be best illustrated by Wang Xu's "Sugar Umbrella" piece, wherein the artist transformed a discarded umbrella into one made of caramelized sugar that melted all over his body as he walked around Manhattan.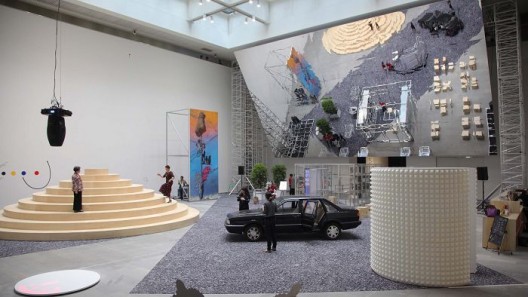 Apichatpong Weerasethakul: Monuments at ShanghART(ShanghArt Gallery, West Bund, 2555-10 Longteng Avenue, Xuhui District, Shanghai), May 28–Jul 27, 2017
A critically acclaimed director, screenwriter, and producer, Apichatpong Weerasethakul is primarily known for his feature films and his role as an active spokesperson for anti-censorship and LGBT rights. Yet this solo show, composed of experimental shorts and photographic works made between 1994 and now, brings out the surreal and the poetic in the mundane, where the artist's cinematic tour-de-force precisely lies. As I traversed between each exhibition room, I became aware that the whole viewing itinerary closely resembles the ebb and flow of a cinematic narrative: while "Haiku" generates tension and anticipation, "Fireworks (Fans)", a gigantic fire projected on a glass pane, reaches a climactic point where the atmosphere becomes contagious with ritualistic elements and metaphorical intent. And while "Video Diary"—five smaller video projections—serve as tiny windows onto Weerasethakul's reflections on his daily life, the immersive video installations "Invisibility" and "async—first light" are testaments to the lasting appeal of light, memories, and fleetingness. The sense of disorientation generated out of familiar memories of the past and everyday spaces is reminiscent of Maya Deren's surrealist films, which equally make use of juxtaposition and superimposition to create states of lucid reverie.
"Monuments" can be understood as a multi-layered understanding of reality and representation: it not only refers to the monolithic statues often found in the Weerasethakul's films, but more importantly, how these nationalist symbols and markers of tradition are always imbued with personal memory, inhabiting a liminal space where "fact, fiction, and dream merge" (from an interview with the artist). It would be wrong to assume that Weerasethakul's art is devoid of political intent. As he said in an interview, "cinema is more of a kind of personal expression; if you just want to create political appeal, you don't need to make a film." One has to grasp the specific powers of a particular medium to create what Jacques Rancière calls "third aesthetics politics", that which collapses aesthetic experience and the "becoming-art of daily life". Ultimately, these works respond to aspects of social life in the artist's homeland. Private worlds—collaborations between friends, loved ones, and inanimate objects—and the public sphere—whether monuments, traditions and rites, and nature—collide and become indistinguishable.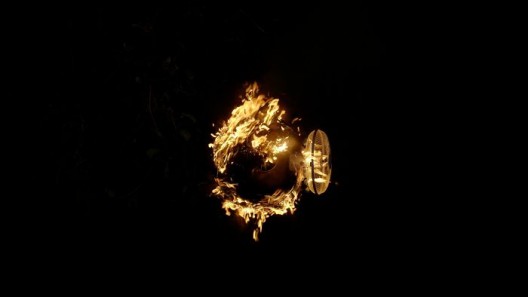 Feng Chen at Capsule Gallery (Building 16, 275 Anfu Lu, Xuhui District, Shanghai, China), May 20–August 6, 2017
The experimental artist Feng Chen's solo show makes full use of Capsule Gallery's unassuming space located inside a residential lane. In direct contrast to the serene backyard in full summer bloom, the sporadically quivering shutters seen from the outside gives off an eerie vibe—as though an opening scene to a horror movie. With many artists flocking to and sometimes over-abusing topics such as image representation or the power of media, Feng's unique perspective lies in his ability to technically and thematically construct automated systems that fully integrate our perception of body and space.
As I navigated videos that document the body's spastic movements distributed across the exhibition space, whether a close-up of a wrist, or the sensual curves of a woman's nape, my optic experiences are linked by built-in sonic and kinetic signals that fluctuate and bounce off of each other. The convulsing rhythms of a vein is synchronized with otherworldly sounds transmitted through headphones, which in turn trigger the blinds to flicker and let in floods of light. I felt that Feng's understanding of the relationship between man and machine is in some ways an experiential version of E. T. A. Hoffman's short story The Sandman, in which the protagonist falls in love with a well-crafted automaton—reality is not what it seems; automated mechanisms can be equally pleasurable, if not cruel.
The artist's gift in traveling between different sensorial realms can also be seen in his manipulation of material objects. I was greatly drawn to the series of acrylic paintings also on view: using ebru, a traditional Turkish marbling technique, the works exemplify a spectacular instance of synesthesia, the organic colorful spirals pulsating with irregular rhythm and energy. Similarly, the spatial dynamism of the carbon-fiber sculpture "7 Real Magic Book" is realized by drawing in three-dimensional space, comfortably bridging different mediums.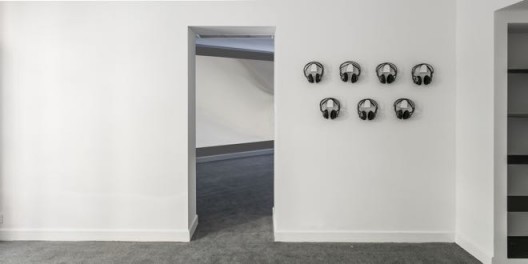 Patty Chang at BANK (Building 2, Lane 298 Anfu Lu, Xuhui District, Shanghai), May 13–July 2, 2017
Just across the street from Capsule is BANK's stylishly run-down basement space. Patty Chang's first solo show in Mainland China, "Re-configuration" is essentially made up of two parts: a selection of performance works from the artist's early career that sought to challenge the boundaries of gender identities, morality, and physicality, and "Configurations", a work that comes out of her current research-based hybrid practice. At the heart of the latter project is a radical shift in scale, Chang looks at the South-North Water Diversion Project—a grandiose engineering feat at the State level—from the intimate perspective of her femininity and person-hood. Perhaps originally out of practical needs, Chang invented urinary devices out of available plastic bottles, using them to pee in almost ritualistically at every site she visits. In the accompanying video, Chang narrates that one of the drivers even asked if the bottles that she used to hold the urine was iced tea.
Due to the extremely improvisatory, impulsive, and interventionary nature of her gestures, I thought that her act of converting these urinary apparatuses into preservable glass sculptures for display in the exhibition was slightly unnecessary. From an outsider's perspective, Chang's accomplishment is to have interjected the perceived grotesqueness of a female body into a nature-conquering project that has no room for such intimacies. Peformative gestures in the form of taboo acts, then, is a way to bridge the gap between the overwhelmingly national and the self-contained personal.