Ye Funa: "Nailhenge"
Space Station (4 Jiuxianqiao Road, 798 Art Zone, Chaoyang District, Beijing), July 2–31, 2016
As the concluding exhibition for the Curated Nail project, "Nailhenge" seemed a little on the somber side. Here were neither the creative manicure sessions of past events, nor the cosplay girls from "Peep Stream". In addition to older works like "Nail Diamonds Treasure Chest" and "Nail Bank", Ye Funa showed a recent series entitled Capture the Nail, made using cheap trinkets from small-merchandise wholesale markets, and Nailhenge: A Small Victory, a new short film shot in this gallery-turned-green-canopy-space.
The turn from "Family Album" to "Curated Nails" marks Ye's transition from a research-oriented practice based on texts and history to a participatory one drawing from the realities of everyday life. In 2014, Ye founded "Exhibitionist: Curated Nails" on Wechat's public platform, a curatorial project that allowed fingernails to appropriate the exhibition function of galleries and museums. By 2016, Ye had collected over 150 submissions. In conjunction with successively promoting the proposals on the public account named "Exhibitionist", Ye has also collaborated with various institutions for pop-up shows, including Ying Space, Nanjing Arts Institute,MoCA Pavillion, and JNBY's multiple storefronts, among others. Essentially, the motive driving Ye's implementation of this project comes from the individual's need for manicure makeovers—she contemplates how to transfer conventional exhibition-making to feature nails. As the project developed, Ye's interest in nails expanded to the realm of pathology and sociology. The word "exhibitionist" originally indicated a perverse behavior in which someone achieves sexual satisfaction by exposing their genitals. In the context of Ye's work, however, it suggests more a certain compulsion for spontaneous showcasing in public space.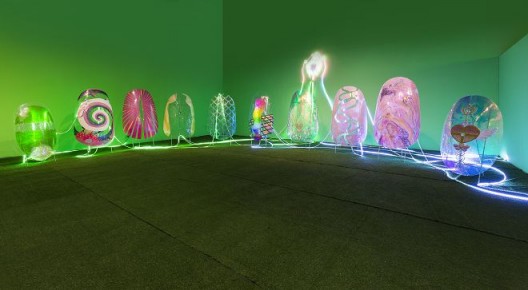 Arranged on transparent display shelves, the Capture the Nail series is made up of nails adorned with rhinestones, puppets, insects, organs, plants, hair, and other plastic materials. On first sight it seems to resemble a mini cult movie theater with a penchant for porn and gore. Although the work seeks to comment on how nails pertain to pathology and sociology, the dazzling array of trinkets is not lacking in feminine accessories such as bows, high heels, and diamonds. This manicure-themed exhibition makes it difficult for viewers to ignore a stereotypical female desire for bodily embellishment. But judging from the vulgar color palette, cheap materials, and crude craftsmanship, the work deliberately rebels against the exquisite refinement sought in popular manicure practices.
Paired with an upbeat electronic soundtrack, the short A Small Victory recounts the process of Ye navigating "manicure" culture with a friend. The artist fabricated the "genesis" of manicure culture, in which "manicure" —a culture intimately intertwined with the lives of women since the beginning of time—seems to have attained a legitimate place. Correspondingly, Ye made ten person-sized nails, taking both Eastern and Western female mythological characters as inspiration for the nail designs. In addition to symbols of Nüwa and the goddess of love in orthodox mythology, Ye also incorporated elements from different subcultures, especially manga culture. For example, the scepter adorned with crowns, hearts, and feathers is reminiscent of the role of Usagi Tsukino from the Japanese Manga series Sailor Moon ("manicure" is the initial step in the Sailor Soldier transformation process—it is as though it can bestow special powers).
When talking about the works of female artists, critics habitually employ words like "subversive", "satire", "parody", and "self-amusement" in order to project "rebellious" personalities onto the artists. Although discourse on female artists is no longer a novelty, it still remains a favorite topic for museums, galleries, and curators to use to generate controversy. Whenever institutions put up shows featuring female artists, they almost never fail either to emphasize their "particular" identity with phrases like "women's living conditions and spiritual qualities are the benchmark for measuring the achievements of civilized society", or to affirm the value of their cultural production with statements such as "the works of female artists are becoming more and more powerful…etc." At times, these circumstances result in female artists refraining from commenting on topics related to gender and refusing altogether that which is "female". In contrast, "Nailhenge" does not shy away from women's love for makeovers. The beauty inherent in manicure culture encompasses not only the sexy and the elegant, but also the weird and the bizarre. The attribution of beauty depends on the individual and what is attractive to them; the desire to look good is but a form of self-amusement.